Megaliths as real pillars: Carn Brea Castle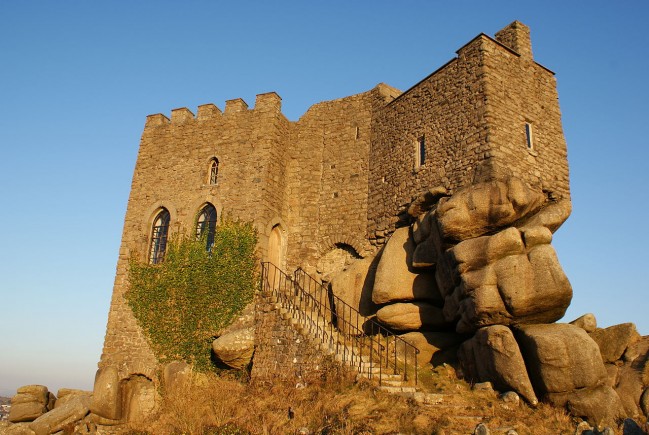 Illustration (also thumbnail): By Philip Male (Castle on the rocks) [CC BY 2.0 (https://creativecommons.org/licenses/by/2.0)], via Wikimedia Commons; >> Link

Science uses a term unknown to me so far for peculiarities which cannot be explained (or which it does not want to explain): "Folly" - (literally translated: foolishness/spleen/madness). That's why Wikipedia also writes about Carn Brea Castle that the castle is a "small stone folly". The term "Folly" is also frequently associated with extravagant landscape gardens in England.
In southwestern Cornwall (England), not far from a hilltop, a chapel in honour of St Michael was built and consecrated in 1379. A Basset family subsequently converted the building into a hunting lodge in the 18th century.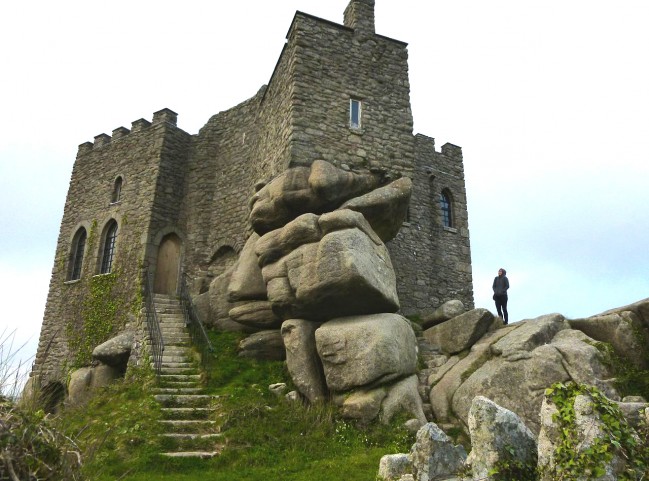 Alternative front view; illustration by Werudolf [GFDL (http://www.gnu.org/copyleft/fdl.html) or CC BY-SA 3.0 (https://creativecommons.org/licenses/by-sa/3.0)], from Wikimedia Commons; >> Link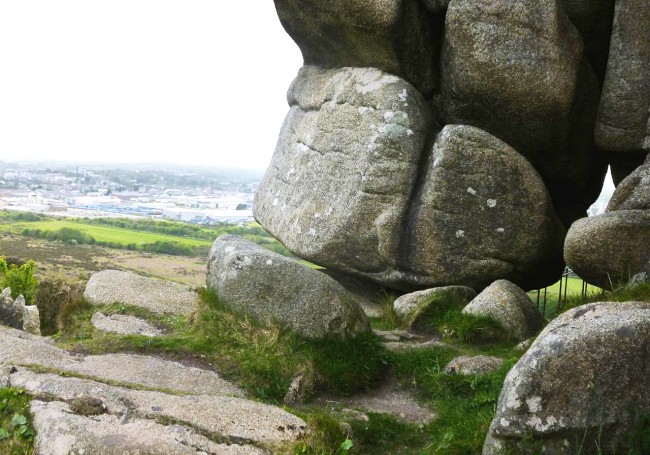 View of pillars in detail - pure coincidence? Picture by Werudolf [GFDL (http://www.gnu.org/copyleft/fdl.html) or CC BY-SA 3.0 (https://creativecommons.org/licenses/by-sa/3.0)], from Wikimedia Commons; >> Link
What science calls "folly" is the fact that allegedly unprocessed rocks formed an important part of the foundation. An optical fusion with the landscape was certainly an important - although perhaps not the only - aspect for the project from the perspective of the builders. But one should take a very close look and not carelessly follow the idea that the smooth and well-formed rocks, which fit so perfectly statically, were originally only a whim of nature and one only wanted to "dock" here for practical reasons. Perhaps this perfect initial situation was already the subject of far-reaching investigations before the chapel was built. Did the owners of the chapel know more about this initial situation than they admit today?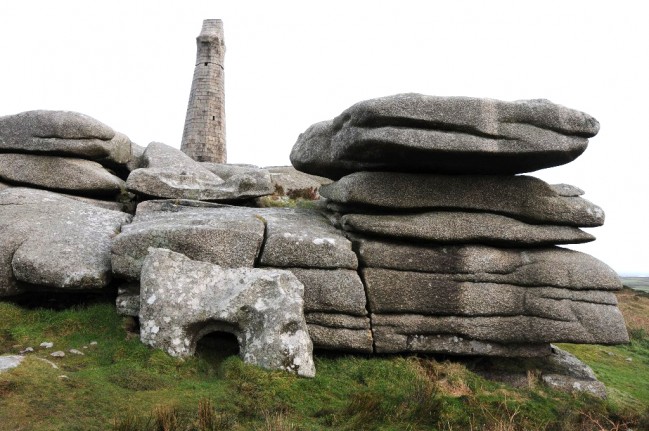 Picture: Rocks on Carn Brea; cc-by-sa/2.0 - © Philip Halling - geograph.org.uk/p/3806061
The monument in the background of Carn Brea reminds of Francis Lord de Dunstanville and Basset and was built in 1836. In the foreground, flat rock structures that look as if they had been carefully stacked on top of each other. The granite monument is at least 30 metres high and exactly on the top of Carn Brea - actually on the top of the Neolithic hill fortress or a potential former place of power.

Even further ahead, a worked piece of rock leans against it.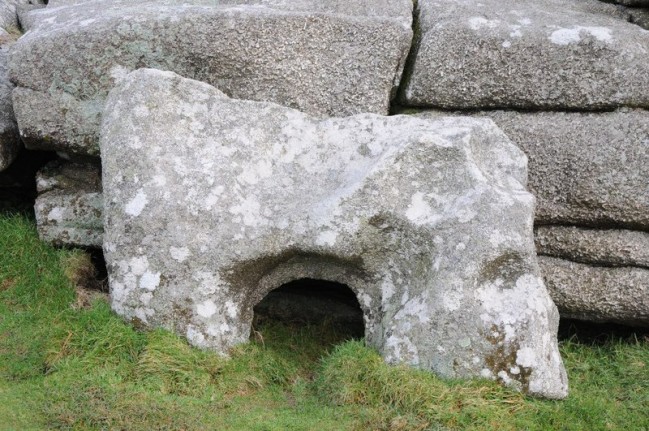 Picture: Rocks on Carn Brea; cc-by-sa/2.0 - © Philip Halling - geograph.org.uk/p/3806073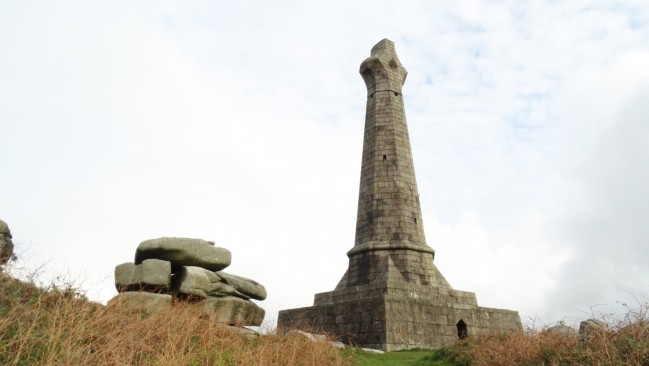 Carn Brea near Redruth - The Basset Memorial; cc-by-sa/2.0 - © Colin Park - geograph.org.uk/p/5247175
The downhill section also has some myths to offer: The stories go back at least 6,000 years. The ghosts of 6,000 year old warriors are said to have been sighted there from time to time. There should also be a tunnel connecting the castle with the nearby church of St. Uniy (Carn Brea village). Archaeological finds prove that the area was inhabited as early as 3,900 B.C..
Then there is the old stone circle in the hillside area, which is interpreted as a defensive position. Obviously nobody wants to think about spiritual possibilities of use.
The village of the same name has an underground tunnel system that was backfilled in the 1980s. Nowadays, the official version of the backfill can always be combined with pretended safety intentions. This argument is often used to explain ancient, mysterious tunnel systems. Apparently backfilling is safer than investing in modern safety techniques to preserve such places. In this case, the local council sends its greetings ...
He then took the opportunity to do all the work and blocked a so-called "smugglers' cave" nearby with stones to prevent children from entering. Strangely enough, apparently there were no children here before 1980 who were at risk ... It cannot be ruled out that this is the entrance to an abandoned mine or another important part of the tunnel system.
A giant named John Gaunt has probably once fought in the area with another local giant named Bolster. At least that's what the locals say ... Since they allegedly threw large rocks at each other, the bizarre rock formation as well as the surrounding scattered rocks would have been the result. Once again in history there is a holy lady (St. Agnes), who acted as a bone of contention between the giants and is said to have led to the downfall of one. Possibly the symbolism of the story speaks another language.
The big question is basically (as so often): how long ago did these rock formations go back in time and to what part are they of natural origin (if any at all)? The fact that these rock formations have been worked on can be proven beyond doubt by means of clearly carved stones. What the final extent of the whole thing is would be worth a thorough investigation. And - last but not least - did the church take this place for itself because there was something energetically "to get" here?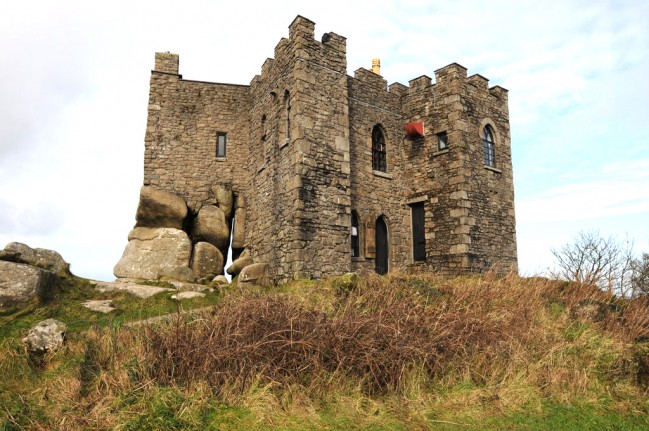 Today the Carn Brea serves only as a restaurant. – Fig. Carn Brea Castle; cc-by-sa/2.0 - © Philip Halling - geograph.org.uk/p/3806161