Sete Cidades: Tortoise rocks in the Brazilian National Park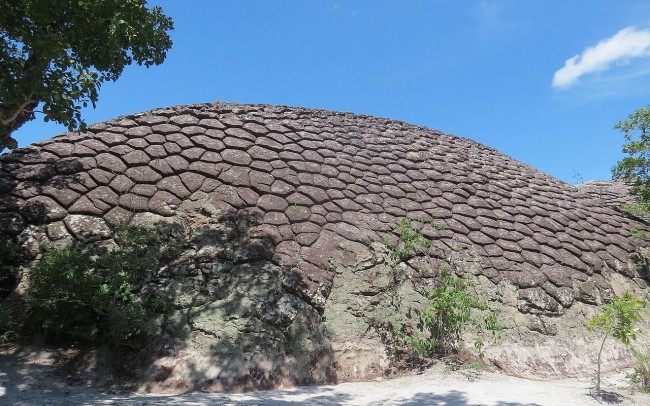 The striking turtle rock (Photo: Pablo Soares / Wikimedia Commons; >> Link) in the Sete Cidades National Park has aroused my particular interest.

Below another view (Photo: Marcelo Bandeira da Silva / Wikimedia Commons; >> Link) of the humpy rock, which reminds me of Giant's Causeway from Northern Ireland.
Here for comparison the structure of Giant's Causeway in Northern Ireland, which is just as "cellular" or reminds of petrified plant fibres, too (By code poet on flickr. (https://www.flickr.com/photos/alphageek/20005235/) [CC BY-SA 2.0 (https://creativecommons.org/licenses/by-sa/2.0)], via Wikimedia Commons)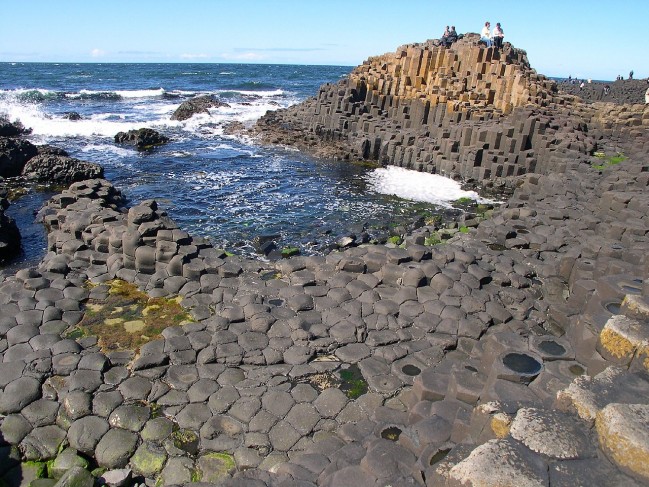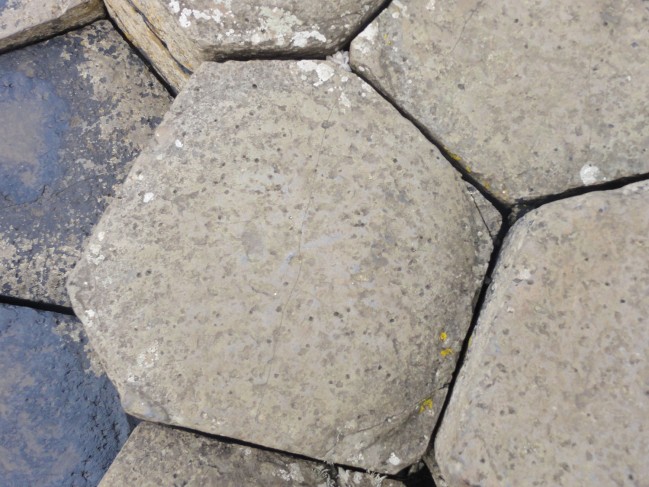 Detailed view of a "cell" at Giant's Causeway - this resembles very much the "cell structure" of the turtle rock in the Brazilian National Park; Photo: Daniel Bahn Petersen from Pexels (Wikimedia Common; >> Bildlink)
Below the surface structure of the turtle rock in close-up view; of Otávio Nogueira, picture source by clicking on the picture;
Please also note my contribution to the petrified trees >> Link
The Brazilian National Park Sete Cidades, also called "Seven Cities National Park", has some "geological" surprises to offer. There are petrified tree trunks and a lot of sculptures, which inspire the imagination of the visitors and are according to official representation certainly of erosive origin. A total of 7 large rock outcrops, which are considered to be extremely striking there, are associated with the so-called Cidades (towns). You can visit them there during a 12 km long hike. I quote from the descriptions of the individual cities (without unfortunately having been there myself so far):
City 1
Basin of Wonders - a body of water that continues to flow even when others have long since dried up in the summer heat.
Cannonstones - Petrified prehistoric trees (see below)
Gia Rock - rock that resembles a frog with open mouth + another that is supposed to look like a market place + another that looks like a snake
City 2
Arc de Triomphe - to resemble the Arc de Triomphe in Paris
Viewpoint Mirante/Gazebo - At a height of 82 metres you have a good view of the park.
Library - a place that looks like books and papers have been stacked there
Rocks that can be interpreted optically in this way: Giant foot, stone phallus, old soldier, amphitheatre, Mount of Olives ...
City 3
The following rock formations should be derived at this point with sufficient imagination: Three wise men, the stone kiss, the mystery of the dove, God's finger, our lady's rock, seahorse, map of Brazil with inner country borders, devil's figure
City 4
There should also be a map of Brazil here, but without an internal division of countries. An outcoupling of the Brazilian state Ceara should be a separate rock. Further there is the Grotto of Catirina (named after the healer José Catirina), a stone lion, eagle head, the representation of two brothers, two lizards and much more.
City 5
Here, rocks with petroglyphs or prehistoric paintings reminiscent of hunting rituals should be found. In addition there is the stone of the camel, the stone of a king (with robe and crown) as well as a guard house.
City 6
Here is the turtle rock, which resembles a shell just as well. There is also an elephant and a dog as rocks.
City 7
A separate permit is required for access to this site. It is said that the fauna and flora are particularly worthy of protection. The paintings there - for example in the cave of the shaman, about which a Chinese dragon is said to be - are said to be particularly numerous.
The total area of the park is 62 square kilometres, which is about the size of 6,000 football pitches - and only half of it is open to the public. The local flora and fauna will also provide exciting surprises.

The area is designed for research and environmental education activities, but also benefits from ecological tourism.
The visitors call them "cannon stones": They probably don't just look like petrified tree trunks, they are also. (Photo: Otávio Nogueira; Source: Click on the picture)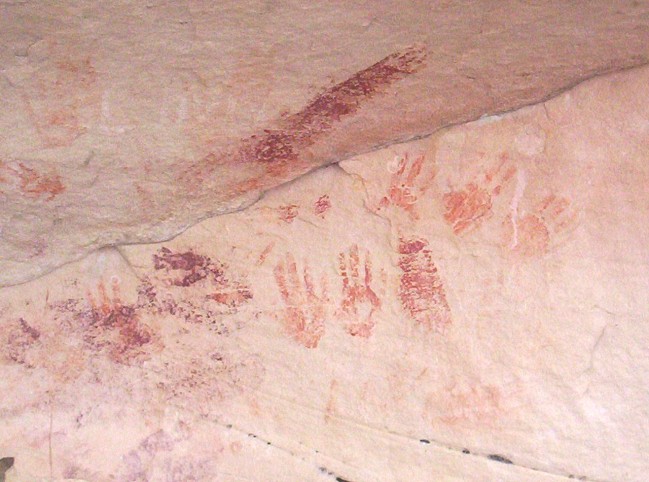 Prehistoric cave paintings are also a popular theme in the park. (Photo By Claudio JJ [CC BY-SA 4.0 (https://creativecommons.org/licenses/by-sa/4.0)], from Wikimedia Commons; >> Bildlink)
Below Photo: Claudio JJ / Wikimedia Commons; >> Bildlink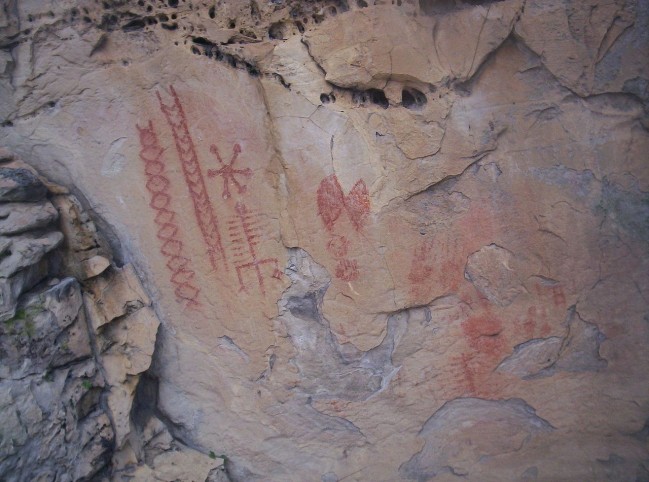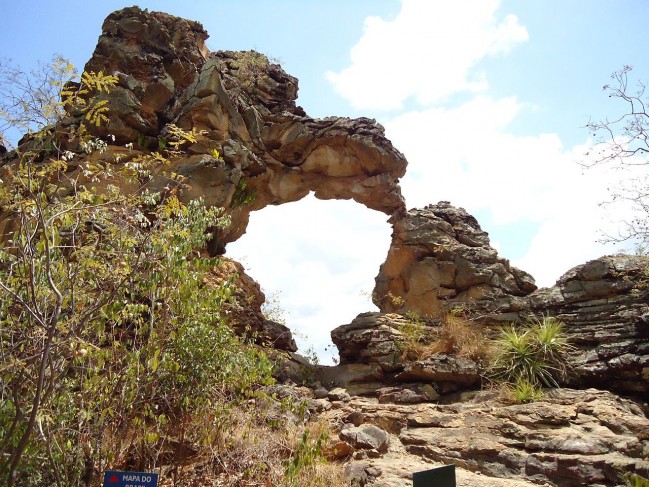 Other interesting rock formations - possibly "The kiss"? Photo: Marcelo Bandeira da Silva / Wikimedia Commons; >> Link
The photo below: By Claudio JJ / Wikimedia Commons; >> Link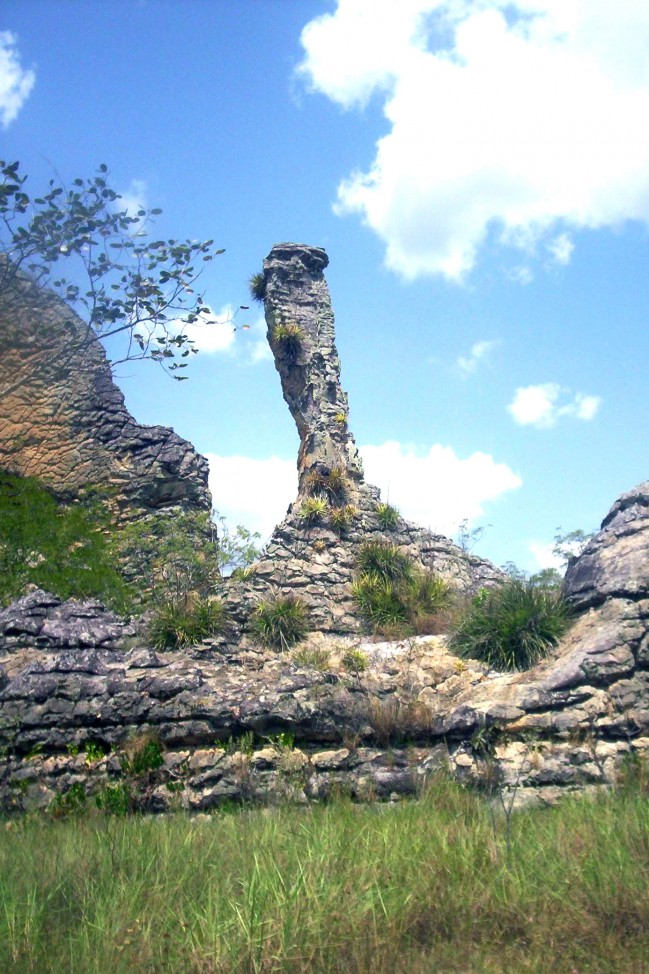 Both figures below: Otávio Nogueira; Source: Click on the picture
Here is another interesting rock in the national park that looks like a bridge or the back of a giant lizard.
Unfortunately I don't have the right of use for the publication on my site, click on the >> 1. Link, >> 2. Link
But I don't want to deprive you of an officially released view of it (Photo: By Artur Warchavchik / Wikimedia Commons; >> Bildlink):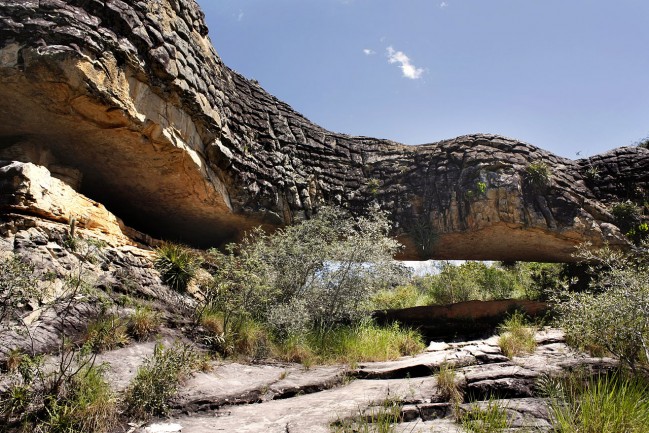 Ludwig Schwennhagen, an Austrian who had landed in Teresina as a teacher, visited the area in 1928 and developed the theory that Sete Cidades was the remains of a Phoenician city founded 3,000 years ago.

In one of his books from the 1960s, Erich von Däniken claims that Sete Cidades was visited by aliens.


And here in Brazil is the National Park - it is certainly worth a trip/expedition: