Kyz Kala: The maiden fortress with the wave structure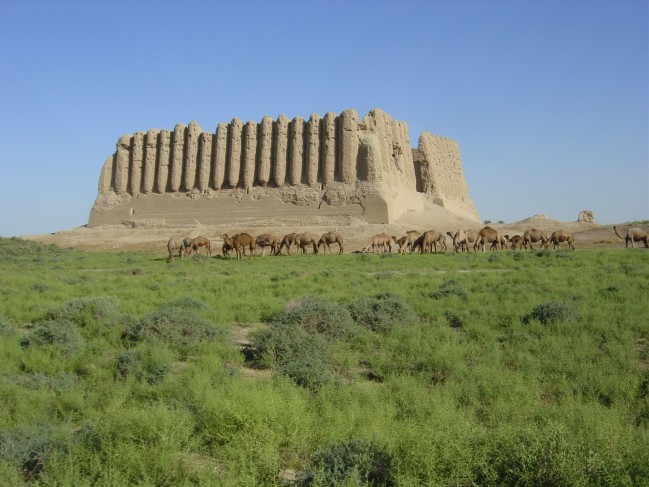 The Great Kyz Kala in the desert of Turkmenistan; Picture source Wikimedia Commons
First of all: Science knows nothing about the origin or purpose of this facility at the site of Merv in the desert of Turkmenistan. Allegedly, Kyz Kala can only be proven to have existed since 2,000 BC. Others limit themselves to claiming that this complex outside the city walls of Merv is only a result of the 7th century AD. It is said to consist of two fortresses, one of which is called the great Kyz Kala and the other the small Kyz Kala. The remains of past cultures stand quite close together. National Geographic speaks of the "remains of a destroyed structure with an uncertain plan".
Picture: John Pavelka
Some claim that the center of Merv dominated the prosperous trade routes of the Silk Road in the 12th century, and suspect that in the past it was home to about half a million people. Furthermore, it is said that it was once again the evil Genghis Khan who, after a gruesome conquest, caused 700,000 deaths (both this story and the number of dead may be doubted). In any case, an El Dorado full of canals and bridges, gardens and orchards - a green and richly cultivated oasis in the middle of the Karakum Desert. Why would a conqueror wantonly destroy such a thing? The question that keeps coming back to me. Dams and dikes along the Murghab River, as well as a network of canals and a reservoir, ultimately formed the basis of existence of this fertile place, which could have been of use to conquerors.
Little brother Erk Kala in the neighbourhood; from the air, this site literally looks like it has melted - the remains are sparse; Picture source Wikimedia Commons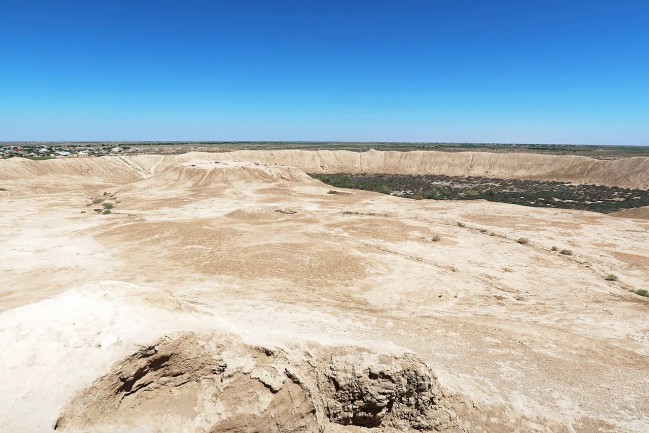 Here once again the "citadel" of Erk-Kala at close range; Picture source Wikimedia Commons
The surrounding walls of the city ran in a long circle over a distance of 8 km. The city was known as Marv-i-Shahijan or "Merv the Great", the largest and most famous of a number of cities in the Merv Oasis. In fact, the city was located a little further east, next to an earlier version of Merv, also known as Gyaur-kala ("Fortress of the Gentiles").

The half-columns of the outer walls and the matter of erosion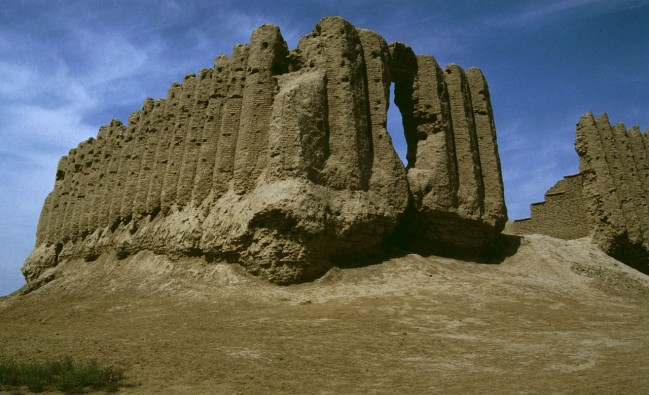 Remains of a badly damaged, once imposing façade; Picture source Wikimedia Commons
The Kyz Kala complex consists of substantial earthen buildings, usually built on elevated platforms, with vertical columns on the outer walls forming 15-meter-high "waves" of mud bricks. Each corrugation is semi-oval in plan with a diameter of approximately 1.30 metres. Unfortunately, a large part of it has fallen victim to erosion. It is possible that there were other catalytic events that could have affected the walls. After all, accesses are said to have been covered up by "rain" and "weathering", which seems very strange: Rainfalls are rather rare in the whole country. On average, about 100-300 mm of rain falls per year. Current laser scan data provide external dimensions of 46.52 × 36.20 m. The ai-journal.com admits that despite its fort-like appearance, it must have been more of a defensive structure, similar to a medieval mansion.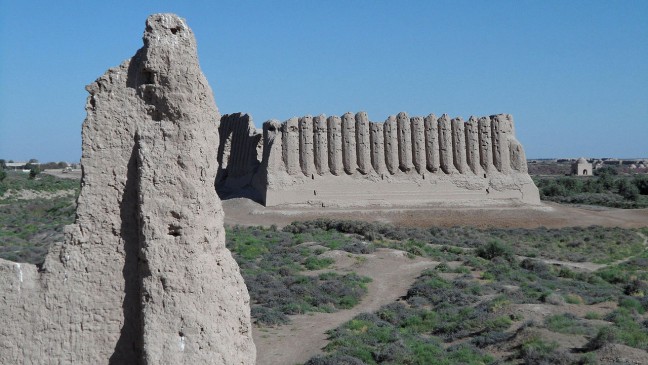 On the base, which still looks smooth today, you can see how much this structure has been destroyed above. Either more modern wars took place than we can imagine today or cataclysmic events have helped with the decay. The walls were basically thick enough to survive this period of time without damage. Weathering or some rain in the desert cannot explain this demolition from my point of view. Picture source Wikimedia Commons
As always, there are many sagas and legends about such unexplained castle-like estates. That is why the term "virgin castle" or "girl's fortress" has become established in tradition, since a king once wanted to protect his daughter from the frivolous vices of the village of Merv and therefore is said to have built this fortress for her. Certainly no better or worse than any other theory. The fact is that a building with this architecture cannot be found elsewhere until today.