Bacharach: Rails in slate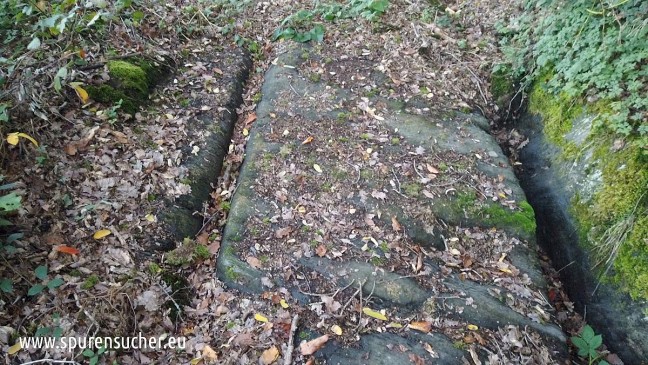 One drives carelessly past it, no signs, no parking possibility (at least not directly in front of or behind it) ... Why, there are only simple rails in the rock! Along the K24, quite a bit above Bacharach on the Rhine, about 1/2 km before the Neurath district, there are "Roman tracks" parallel to the roadway, which are uncovered every few years by the fire brigade and are certainly anything but "Roman tracks". These are apparently wagon tracks or aisles, which were often also called cart tracks and which give no indication of their origin.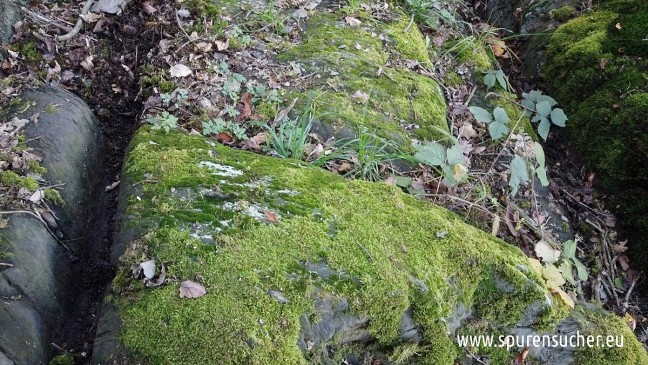 As always in such cases such Cartruts are ascribed to the Romans, because otherwise one has historically nothing else on the screen or would like to have. Of course, there is no evidence for this conjecture, no more than there is an idea about how the Romans should have done it and for what purpose.
View from below in ascending direction
This section is about 1.80 metres above the main road and the (Rhine) side facing the embankment. It lies so close to the mountain that one can ask oneself ad hoc what happened to the other tracks that once must have been on the spot that is now busy as a lowered main road. I could not find out how long ago that was. In any case, I assume for my part that they were not the only ones ... The first fortifications of this car route, however, are probably so far back that there are no more records anyway.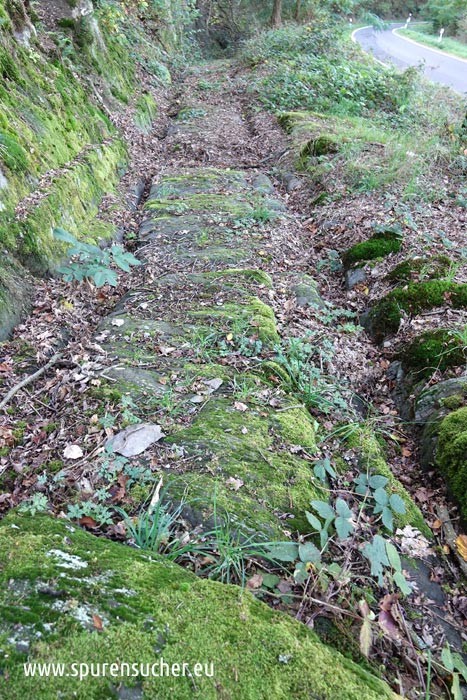 View from above onto the track in descending direction; the lower end could continue under the ground.
The "track" in the slate is about 30 meters long, is cut off on one side and loses itself on the other side in a sloping slope. I can't say whether it will continue there.
Interesting is the arrangement of the "rails", which in reality are not. There are two parallel "main" tracks, which have dug themselves "round" into the slate and are about 1.20 meters apart. That this must have been a vehicle track that once buried itself in soft material is out of the question for me. This is of course a matter of pure faith, which does not agree with any common doctrine.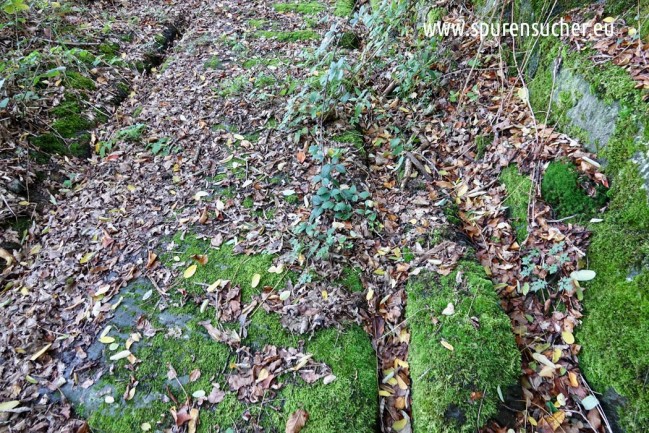 Multi-track: Why would something so pointless have to be prepared in the rock? Especially since the third track in the picture is narrower and much less deep. Moreover, they cross each other...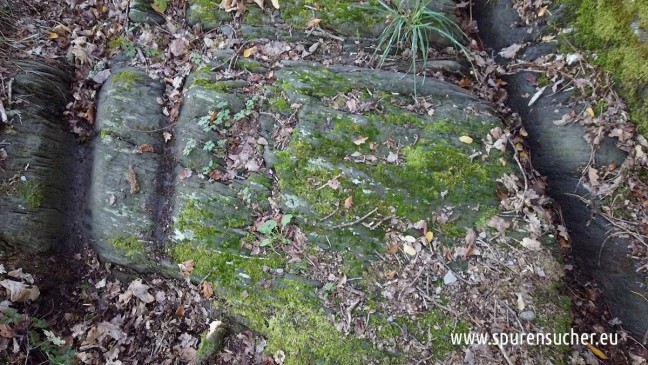 I don't need to consult the common doctrine anyway, because here would surely come the hint that these traces had been prepared once by Romans and the treatment or preparation by the constant use of hand carts or horse-drawn carriages can no longer be proven. In fact, there are no traces of tools and I put myself in the opinion of researchers who could claim that everything was lost with the regular wear and tear and thus cleared up.
But that's also a lot of nonsense in the sense that there are other arbitrary and crosswise traces, whose conscious creation would have no logic whatsoever. The whole thing reminds me more of a mud rally of several vehicles on soft ground, whose tracks have buried themselves to different depths - depending on the weight and load of the mobile devices. So it's extremely unlikely that we're dealing with intelligent rail "guidance" here.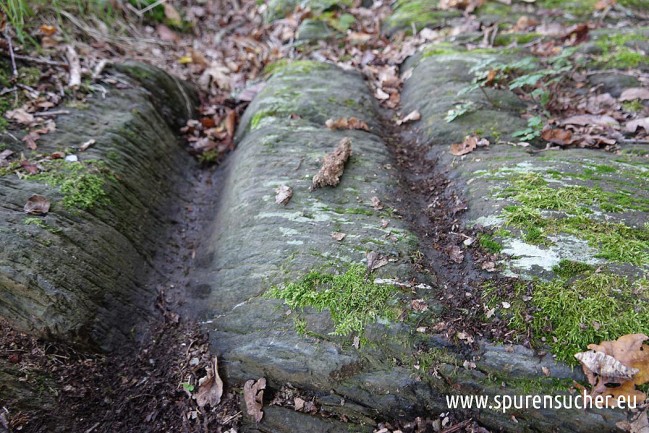 In the rear area of the following picture on the right side of the rock there are also tracks or grooves in elevated position. Was this a drainage channel or was there a mobile application?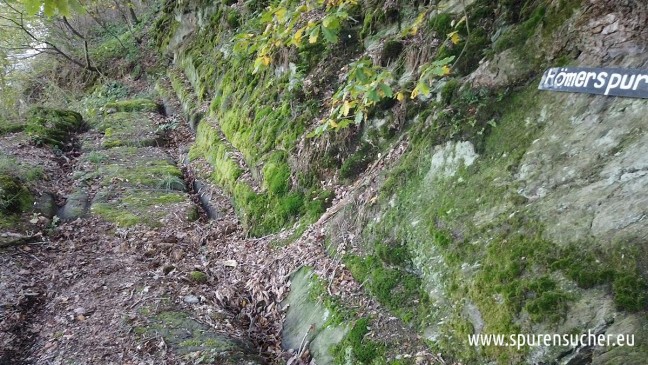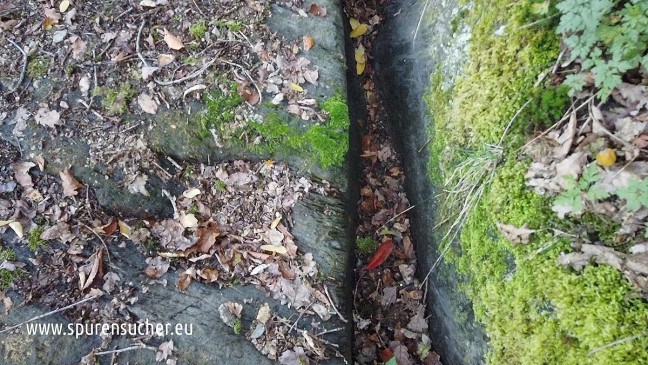 Some of the grooves are 20 cm deep. Sometimes deeper, sometimes wider than 8 cm at the deepest point.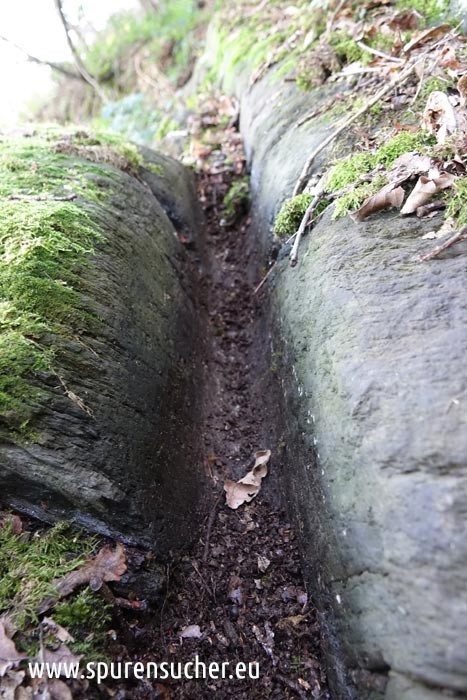 Of course I have no evidence for my part either, but the picture seems more authentic to me than that of the Romans, who are said to have prepared the work here for a safer transport. Since slate - depending on its composition - turns out to be a very hard rock, such a preparation would have been almost impossible anyway. No one can have seriously consciously taken the trouble to prepare such arbitrary aisles under such conditions. But perhaps I am mistaken.
The "tracks" show some interesting traces, which have to be considered during the analysis:
- There are parallel tracks, which are equally wide and deep.
- There are tracks that are significantly less deep and wider and that have been pulled in isolated cases.
- There are tracks that diagonally cross other tracks.
- The track profiles of the tracks are round throughout, i.e. there are no indications of angular metal strips under wooden tyres and thus flat laterally chamfered tracks in the grooves.
In the area of the rock slope there are steps that go through the sides, which I could not examine more closely, as I only noticed them later in the picture and film material. I think, however, that they are also slightly elevated around round profiled tracks (indentations), which run there. Please also have a look at the more detailed pictures of the cleaning by the fire brigade in 2016, when the vegetation was uncovered and the area was cleaned.
Please also note my 8-minute film below. You can also discover some interesting details there.
It also occurred to me that this was once a mining area and that carts were used to transport the material. But also in this case the question arises why the terrain should have been prepared in this arbitrary form and how. In addition, the above-mentioned further discrepancies remain unclear.
Perhaps you have other useful ideas?