Geigerles Lotterbett
Waldeck Castle (on the Nagold River in the northern Black Forest) and its ruins are nearby, but I missed the opportunity for a flying visit. It is said that a noblewoman on horseback once rode from it and literally "ran over" a poor violinist.
This strange event is associated with this place, since this megalithic tent structure is also said to have been the lodging of this poor fiddler, in both senses of the word. The ruin is only a few hundred meters away from this unusual dolmen "setting".
Machining traces in the "tent" of the Geigerle..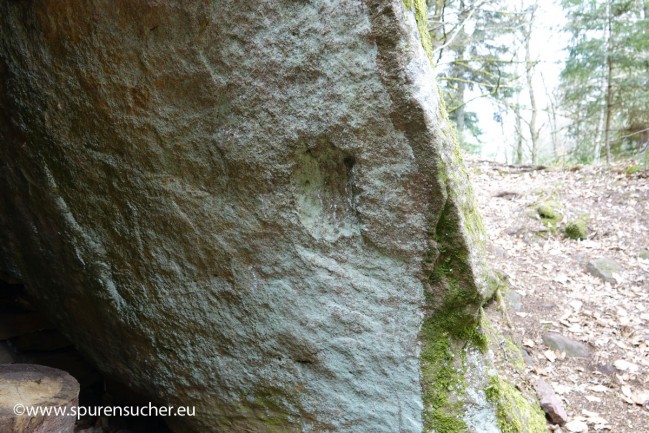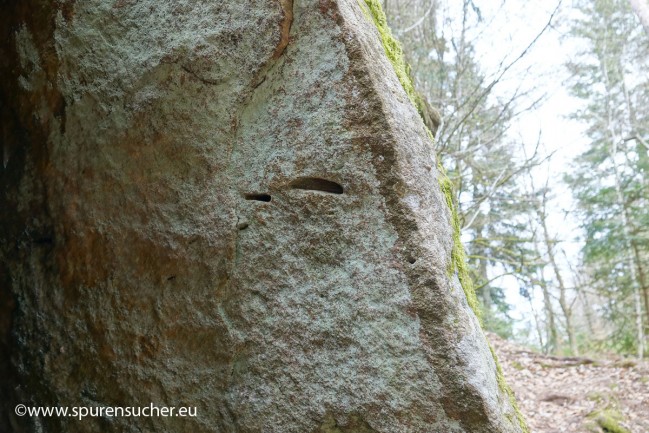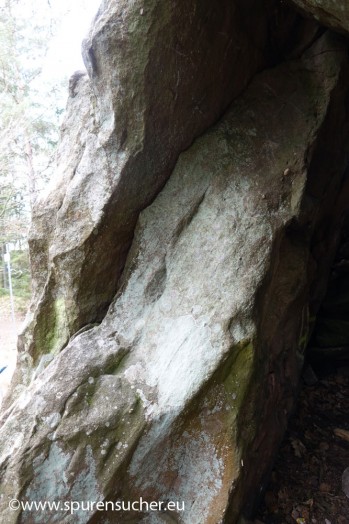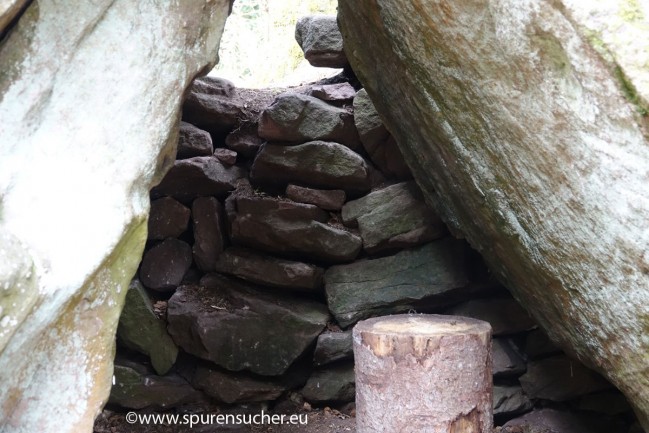 Dry wall in the "tent"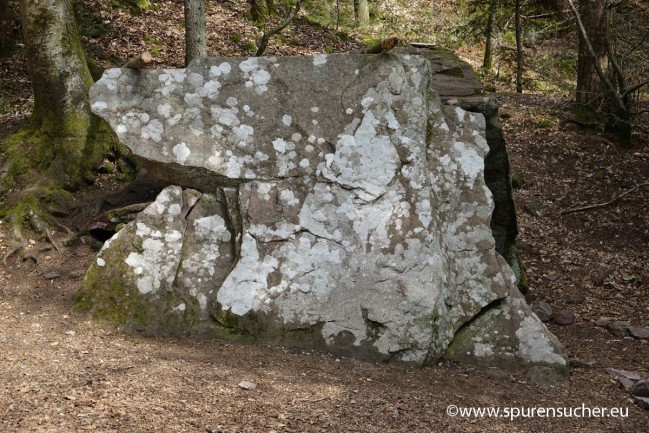 The "tent" wall from the outside.
Above the "tent" formation the view of the menhir.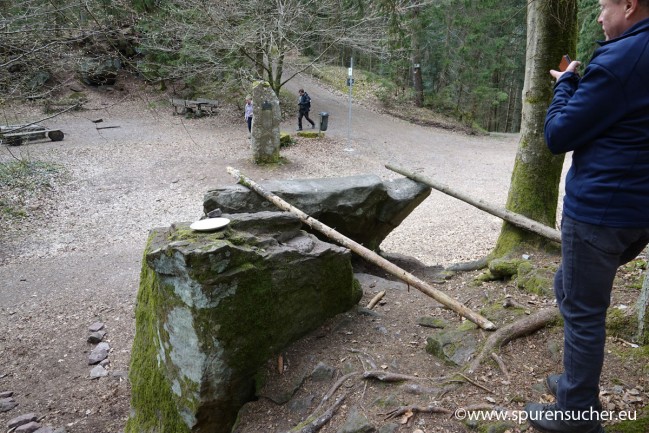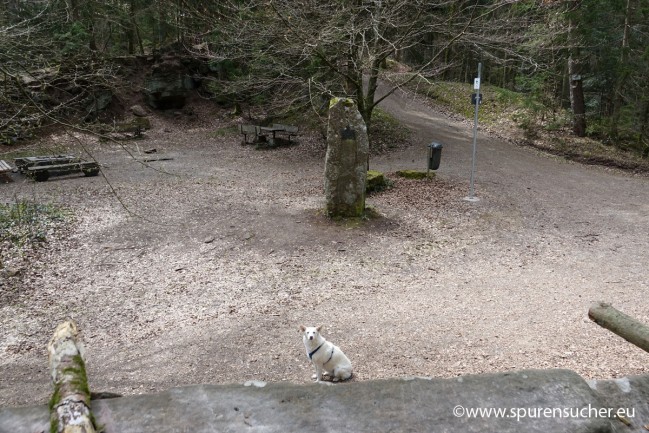 Science that does not create knowledge is, in case of doubt, good for stories. This compensates the visitor/wanderer for a lack of knowledge or the examination of possibly further findings.
In any case, the site has a lot more to offer than a few red sandstone slabs leaning against each other, which have undoubtedly been artificially worked or prepared. It is questionable whether a more familiar dolmen structure once stood here, whose remains in this untypical form pose a riddle. In any case, this tent-like dolmen structure has also been found in France and Portugal.
The fact that this site has something more to offer, or that it clearly has megalithic structures, does not require much research. A few metres next to it is a menhir "adorned" by an irreverent resting place engraving.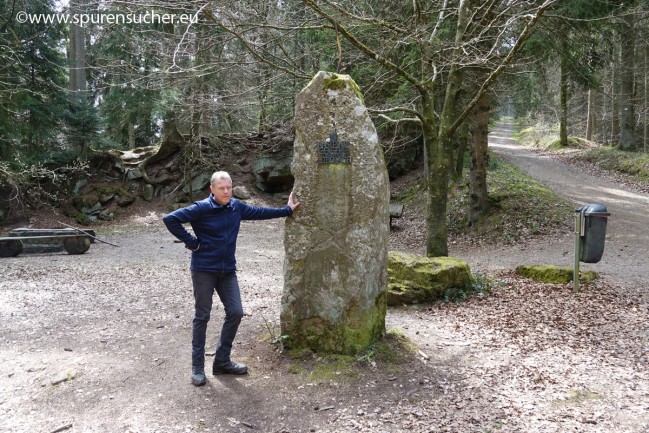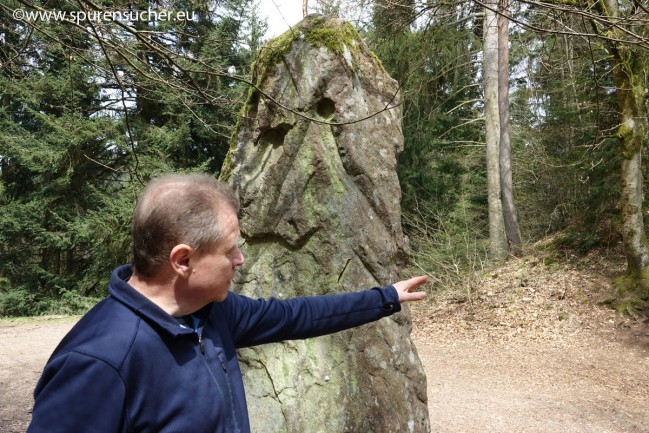 Das Gelände bzw. die dahinterliegende Anhöhe ist praktisch von Trockenmauern eingefriedet, die vermuten lassen, es hier mit einem (teilweise zerstörten) Cairn zu tun zu haben. Weitere offizielle Forschungen in dieser Richtung finden offenbar nicht statt.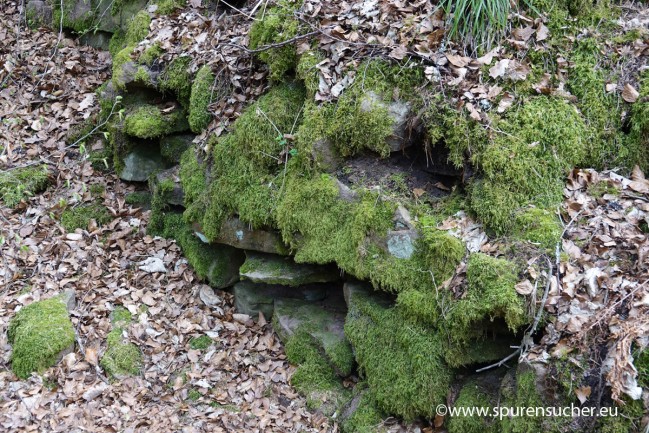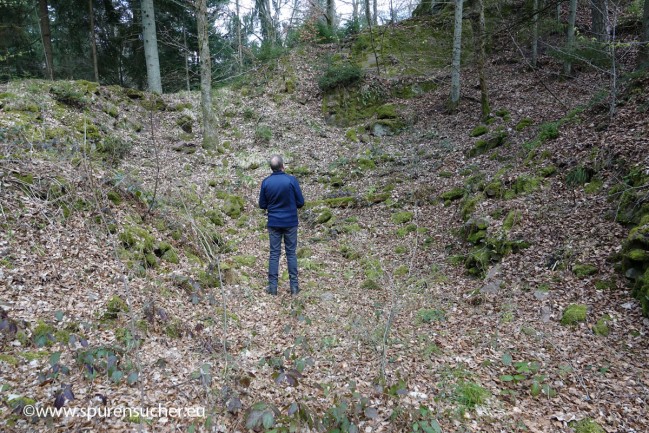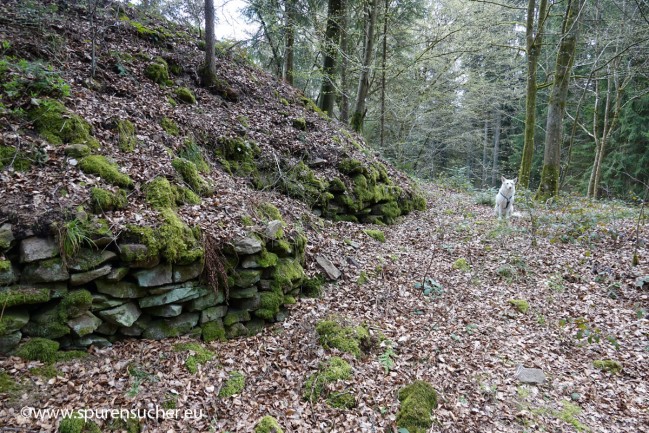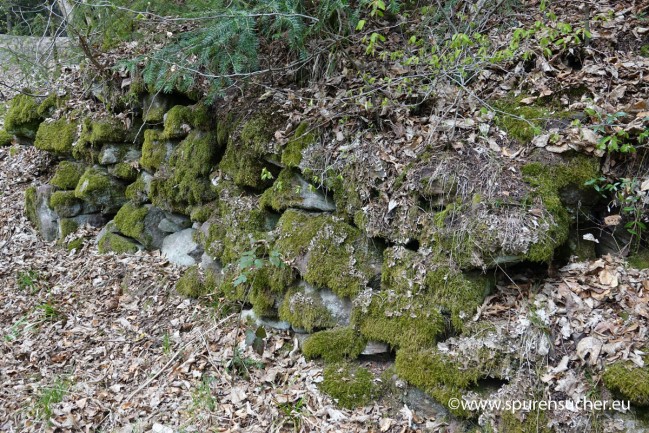 The site, or the hill behind it, is practically enclosed by dry stone walls, which suggest that we are dealing with a (partially destroyed) cairn. Further official research in this direction does not seem to be taking place.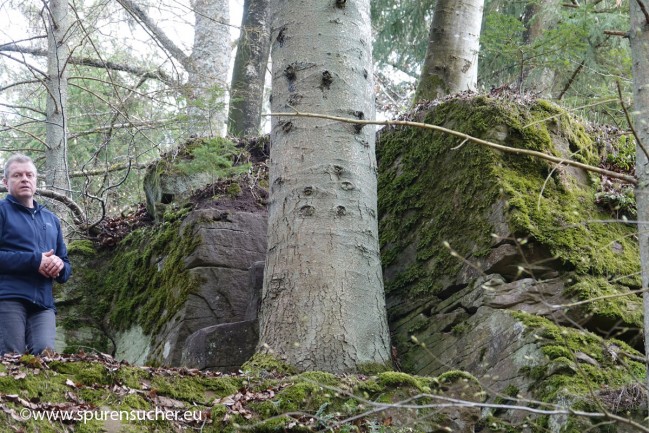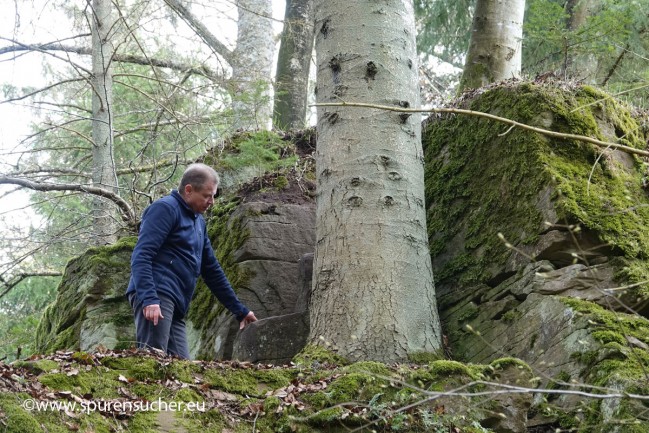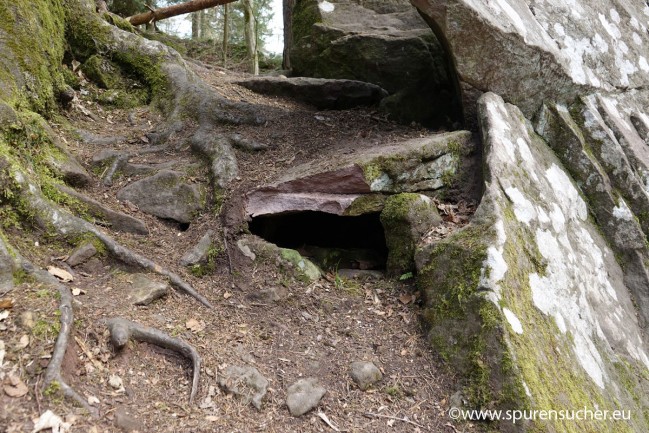 Here are some more rock workouts, but they could also be from "more recent" times.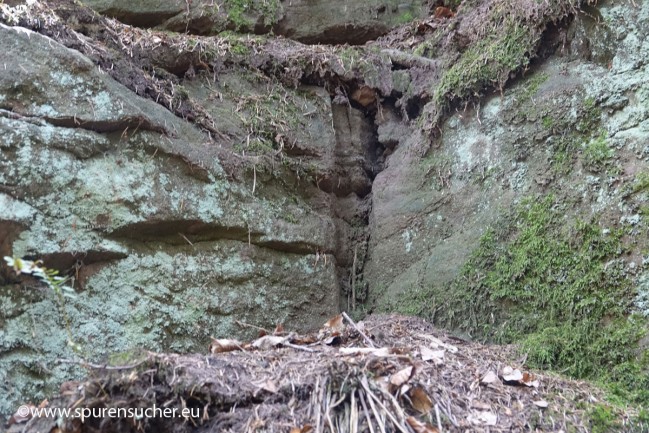 Dieser Felsen in unmittelbarer Nähe zeigt umfangreiche Bearbeitungsspuren.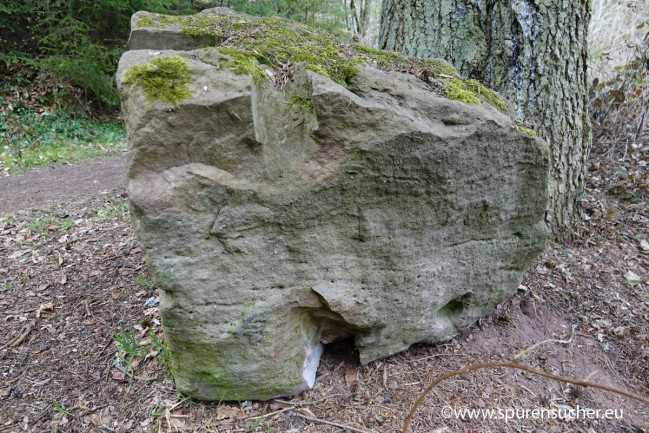 This rock in the immediate vicinity shows extensive traces of machining.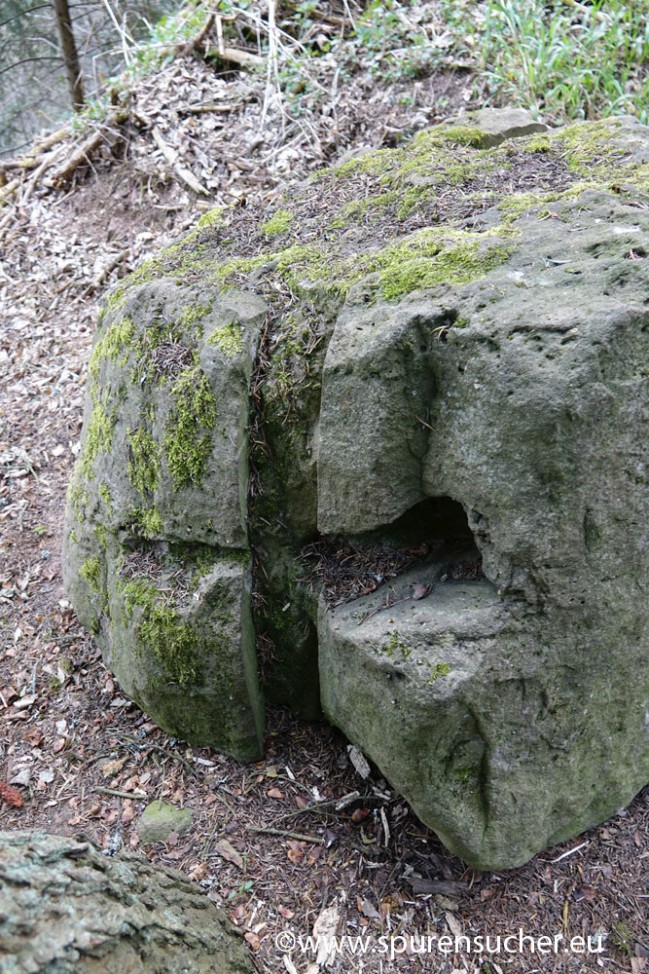 Let yourself be inspired by this enigmatic place and risk a closer look into the grounds. I am relatively sure that the longer you stay, the more exciting things you will discover.