Donuts in the rock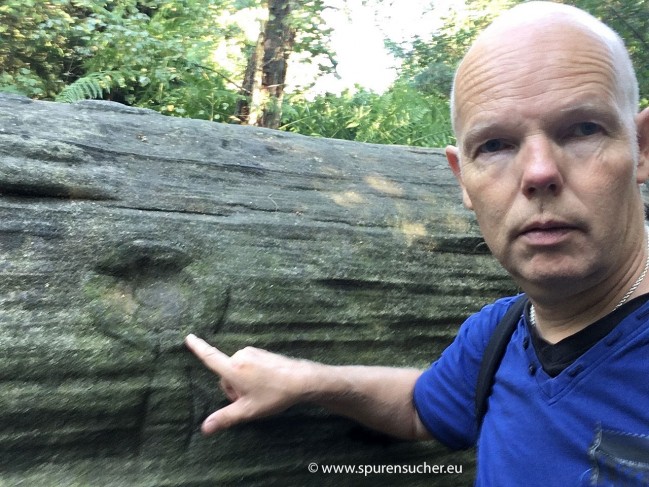 Near Bad Herrenalb-Bernbach lies a striking rock, which some scientists have classified as a pre-Christian cult site. Even if this assumption cannot be proven, its anomalies are unmistakable.
The area where it is found still belongs to the northern Black Forest.: The Mauzenstein is not far from Bernstein, a nearby high mountain - both occurrences are about 700 metres above sea level.
The Mauzenstein is a flat Buntsandstein rock with strikingly flat structures. One could easily come up with the idea that the approximately 4 x 2 metre large rock was "brought into shape" sometime in prehistoric times. This refers to the flat position, the relatively flat surface and the laterally grooved structures, which any geologist with a lapidary shrug would dismiss as a spinning mill. The same is true for the donut-like cups that appear laterally and on top of the rock.
I do not want to draw any final conclusions here, but I want to focus on the various points that make the rock special:
The flat rock looks like a stage - the surface is extremely flat and there is no comparable example nearby. Neither in form, colour nor structure. This monolith does not have any characteristic form of a randomly pure natural rock. Also and above all in the closer environment one does not find a rock, which is in such a way constituted.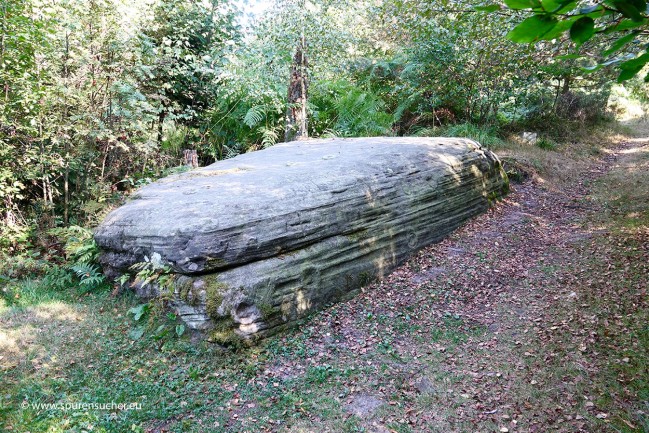 The lateral grooves look like brushed. They run absolutely parallel. Vertical erosion marks, which I would rather suspect here, are much less present here. What is it then?
In some places one could assume that it was a huge pillow with predefined or arranged folds. Geologists see in the grooves the flow direction of a glacier from 1.7 million years ago. These are supposed to come from stones that were transported by the ice and would have scraped off this rock.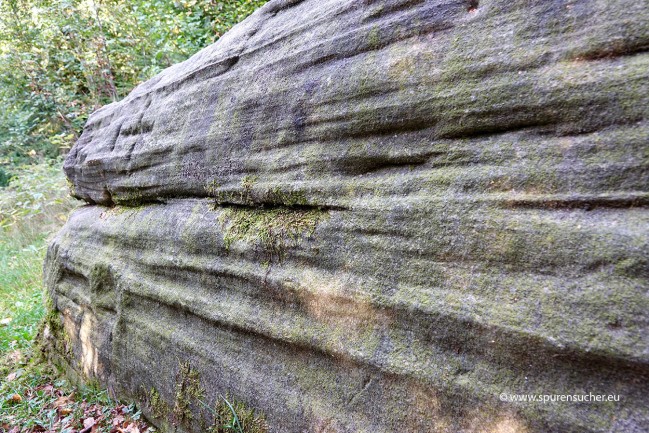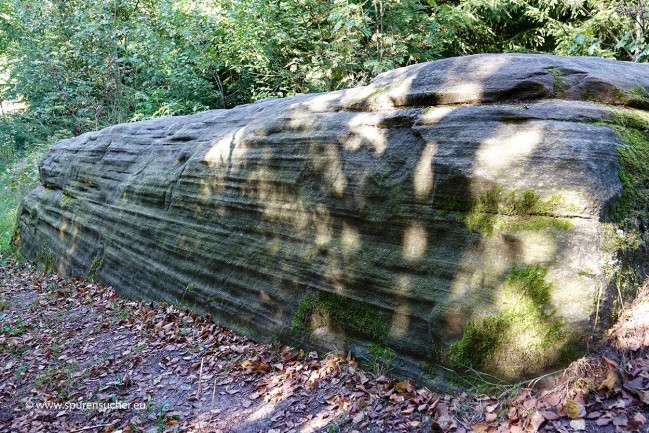 The rock is covered with relief donut structures on the sides and on the top. These are raised at the edges and can therefore hardly have been handcrafted from the rock by humans. Under these circumstances the complete rock would have to have been sanded down. I personally think it is unlikely ...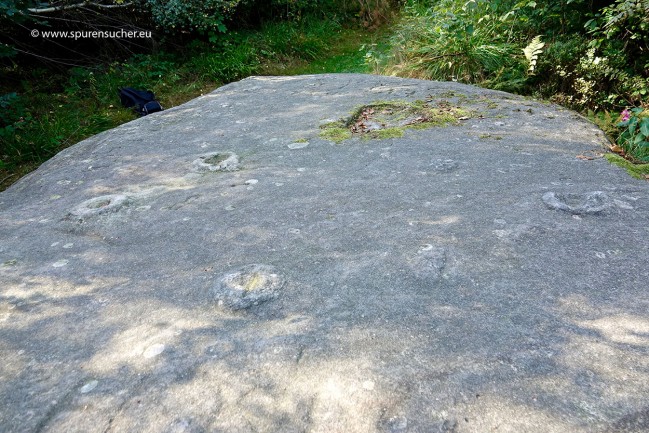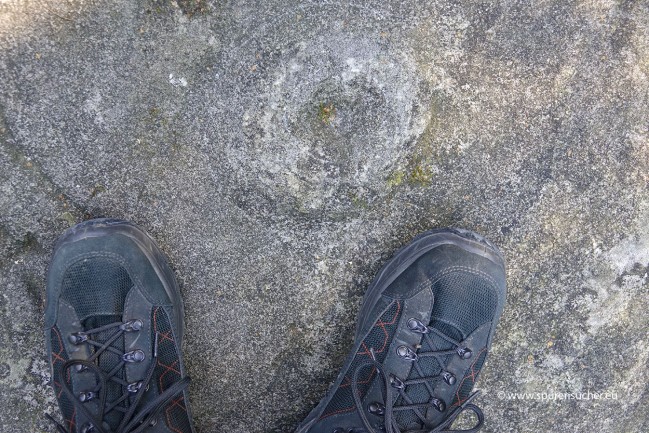 Single donuts on the upper side differ in their quality, from smooth and bulging to erosive. One can see very well, however, that the texture was originally quite flawless.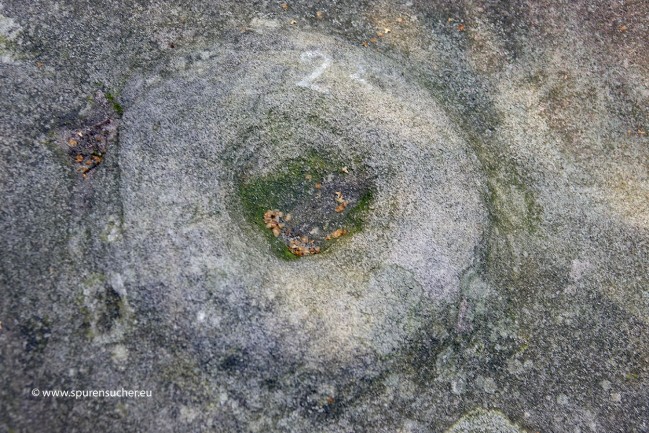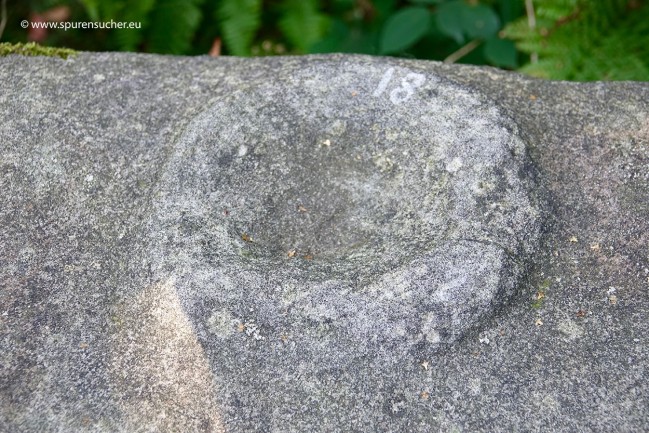 I have uncovered one or the other moss-covered structure again, so that one can see further details.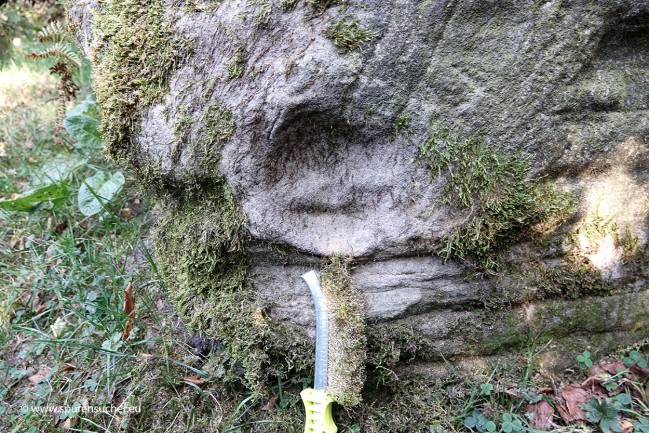 There are differences in the quality of the donut structures: On closer inspection, the ones on the side appear partly more filigree and not as "raised" as those on the top. The ones on the upper side generally look rougher and more cup-like. But there are differences here as well.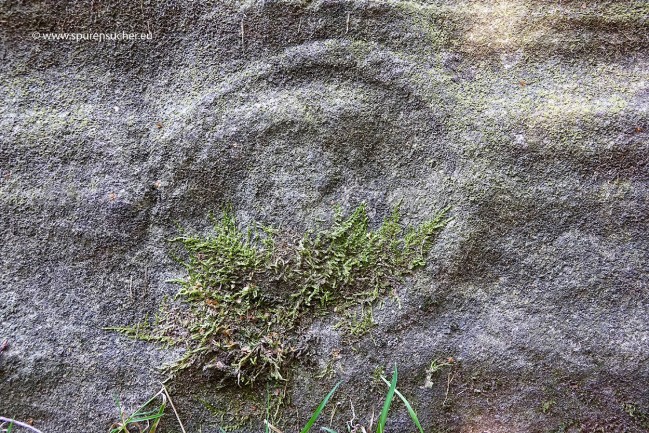 This bowl structure on the side is much more filigree than the one on another side. Although it is also raised in relief, it appears less pronounced ...
Another lateral cup structure is much rougher, more bulbous and crossed by a vertical erosion line.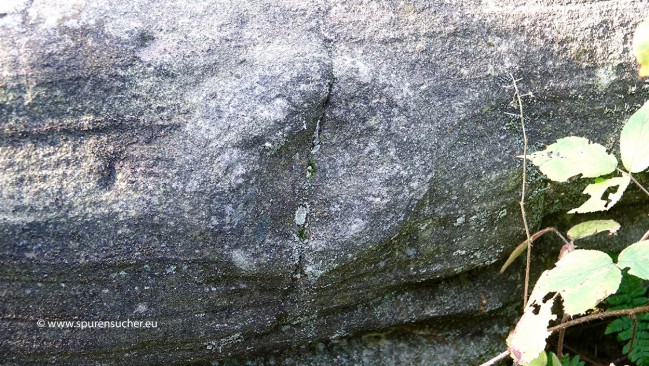 Donuts and petroglyphs at the side meet there. The Catholic Church has also long since immortalized itself there with a cross of ban and consecration.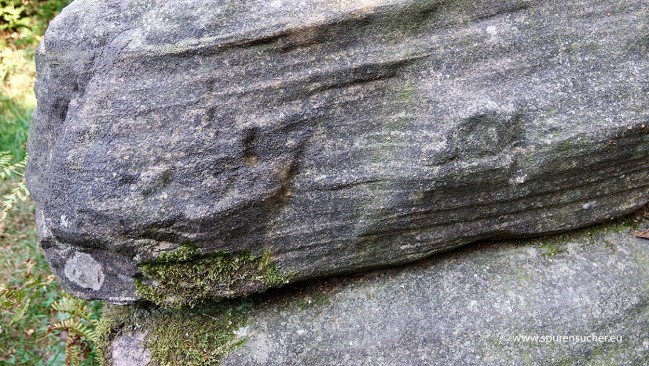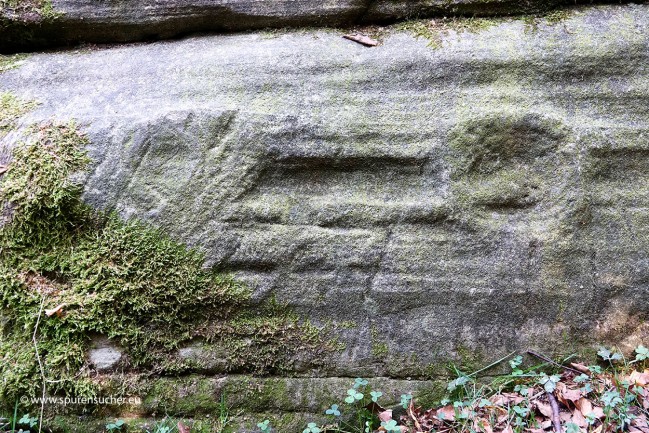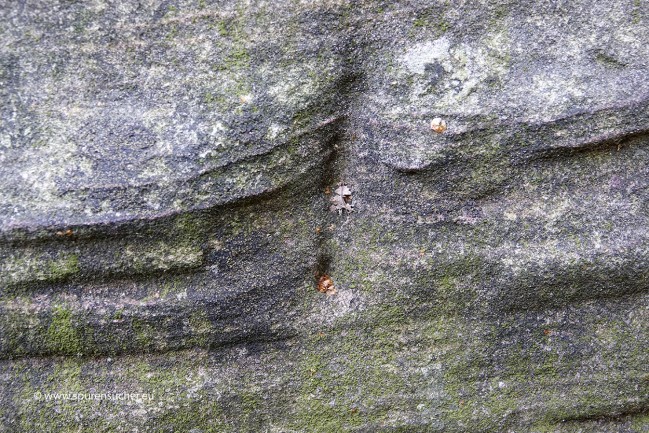 Petroglyphs on the top of the rock may be of a more recent date. Virtually anyone can immortalize themselves in red sandstone.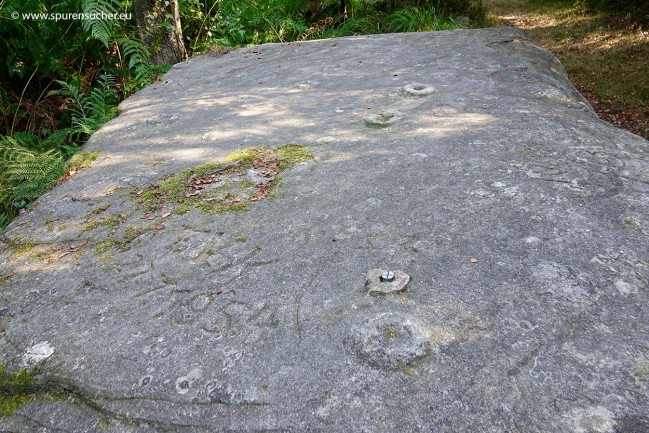 What's the deal with donuts? Interestingly, even scientists do not agree here, depending on the faculty. Megalith culture enthusiasts such as Josef Naudascher, long-time chairman of the Archaeology Section of the Historical Association for Central Baden, associates the donuts with the constellation of the "Great Bear". In his opinion, this also applies to the "little bear" and the triumvirate "Hair of the Bernike". One admits however afterwards that the positions in the relationship are not so right nevertheless. An astronomical reference is therefore a bit questionable. Even if the name of the stone comes from the bear ("Mauzenstein" - "Mutz").
For me personally these are also - as already assumed - no sacrificial bowls, which were simply brought in there by humans. Firstly, they are too small with a diameter of 15-20 cm and secondly, as is usually easier to see with fret sandstone, I do not see any traces of manual processing. The bowls would also be too arbitrarily arranged.
In addition: What then should the donuts be on the side, which are deliberately ignored by all parties. Under these circumstances they neither fit into the astronomical concept nor into the ritual "shell" theory.
Geologists take a somewhat different view: From their point of view, these are so-called concretions - sintered mineral aggregates that are sintered out of an aqueous, circulating solution (pore water) in an OTHER-type fine-grained sediment. There are also pictorial examples of this that can be viewed: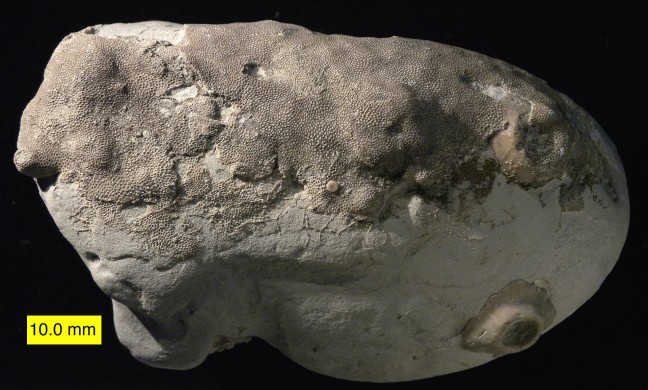 Picture: By Wilson44691 [Public domain], from Wikimedia Commons; >> Picture link 
One can actually see from such examples how the sintering out of another material bears fruit or "bowls". But I cannot see any other material structure from our example of the maussage stone above. Here in this example you can see very clearly how another mineral really breaks its path.
This also applies to the following example, which immediately indicates an "incompatibility" of two different minerals, which differ optically from each other:
Picture: von Ikellenberger [CC BY-SA 4.0 (https://creativecommons.org/licenses/by-sa/4.0)], vom Wikimedia Commons; >> Picture link
Interestingly, new scientific theses are now shooting into the herb that the bowls on the Mauzenstein are brachiopods or terebratulids, petrified shellfish. These look like conventional mussels (watch also under >> Wikipedia). It will be interesting to see what comes next ...
The last word may not have been spoken here yet, but I personally cannot fully endorse any of the scientific theories mentioned here. These rings remind me of something else that I know from industrial manufacturing processes. Of course, I do not have any evidence of this either and will leave it at this point for the time being ...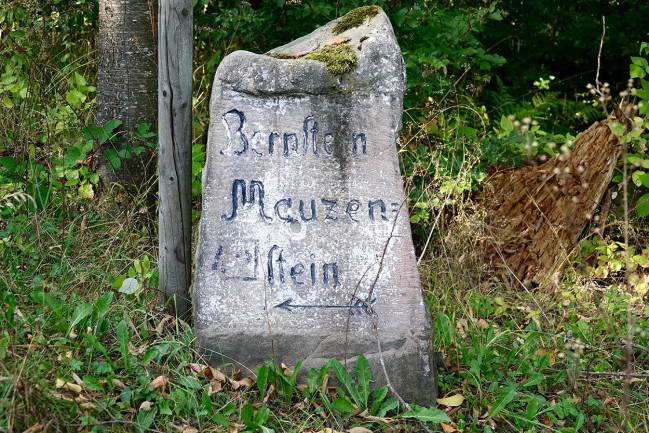 Those who are in the area should not miss the Mauzenstein or make their own impression. There are few limits to your imagination in this phenomenon.