The Siebenfelsen: piled up or cut open?
The Black Forest sometimes offers interesting cult sites that divide opinion. Less so the scientific ones, because they have long since settled. Above Yach near Elzach, on a mountain promontory, stands an imposing rock formation that geologists believe is the result of wool-sack weathering.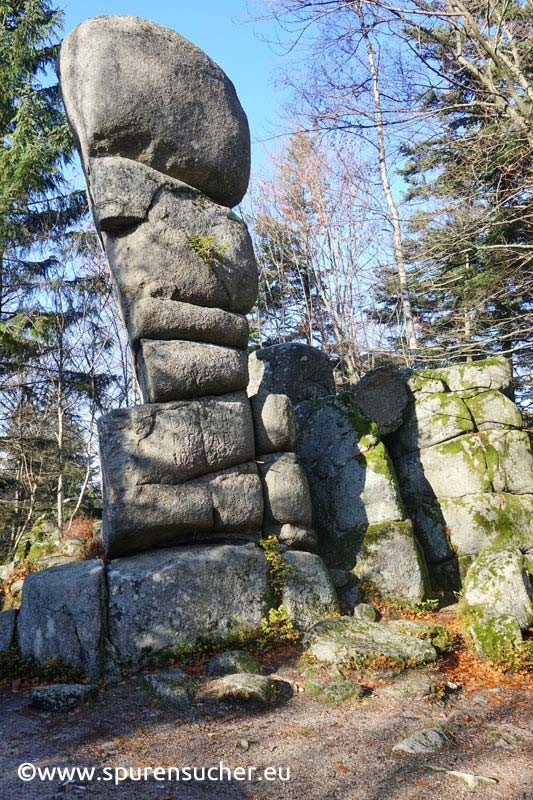 Side view of the Siebenfelsen after arrival. You can see two large steps in the lower left area. On the side, one gets the impression that someone has subsequently gone to work here with a rock guillotine.
On foot, the nearby place is easy to reach from a car park thanks to sufficient signposting; the path to the mountain ledge is quite steep at the end. In winter, one is glad to face the rock tower of seven rocks (hence the name) unharmed. Before you reach it, you almost trip over a massive rest area with table and benches. Something for which one should presumably be rewarded after the last steep section, but which ruins the cult site (which doesn't exactly offer much open space) in my view.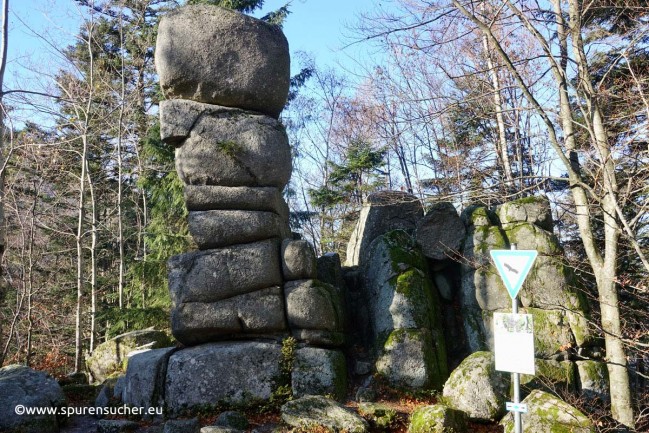 Geological coincidence and, in terms of form, the result of enduring natural influences? I have my doubts. In any case, the statics are looking good.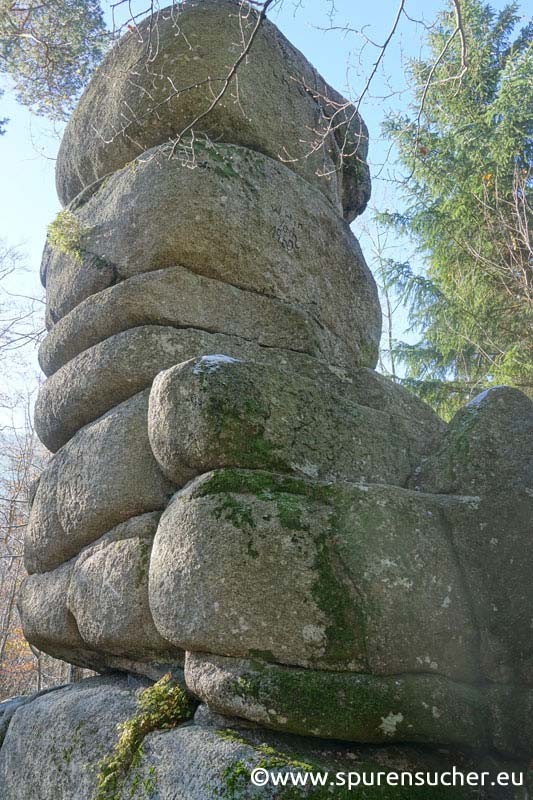 I noticed that the tower looks different depending on the side view. When viewed from the front, at least, it looks like a huge phallus; when viewed from the other side, I see a face with headgear in it.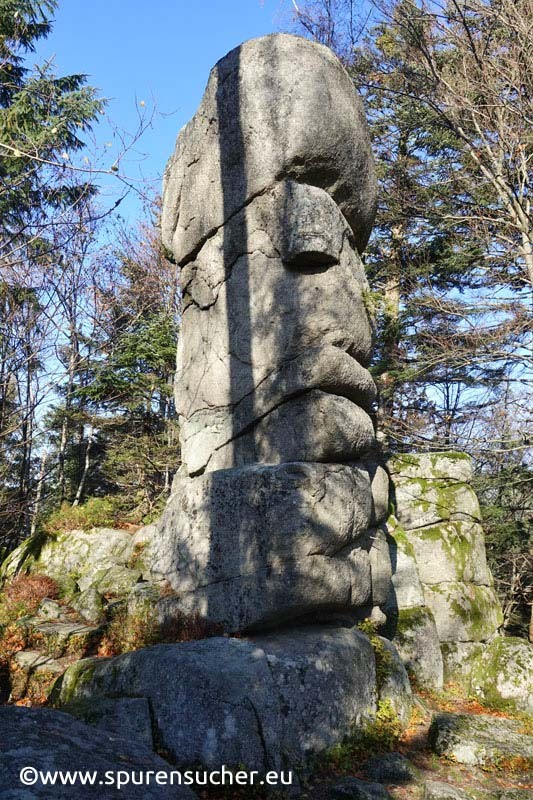 Phallic representation as a symbol of fertility?
Seen from the back, I see a head in profile, possibly with headgear. Nose, mouth ... for me everything is coherent. Please also note the single small rock in the upper area, which may have a stabilising function.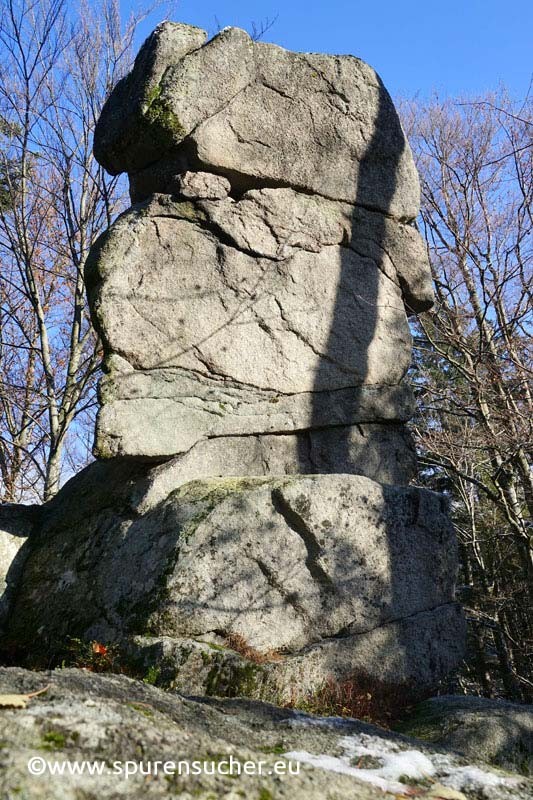 The overall panorama of the back (lower picture landscape format) already suggests that nature must have proceeded very figuratively and geometrically here. From my point of view, it is already clear in the overall preview that a lot of work has been done to bring the picture to this state.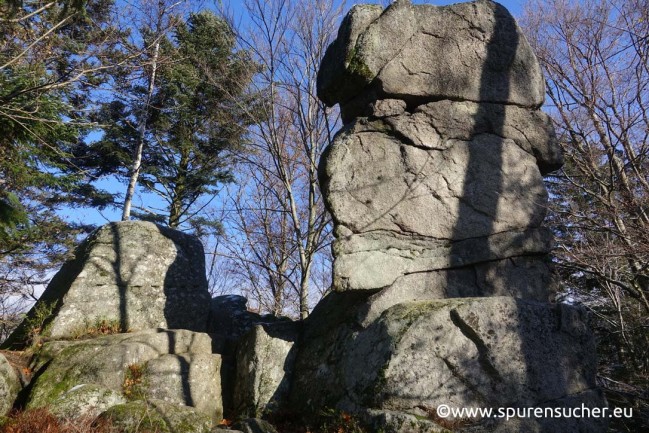 Researchers always have the wool-sack weathering at the ready as an explanation for such formations, which is typical for granite. Coarse crystalline structures of special hard rocks offer the corresponding attack surfaces in fissures for chemical-physical reactions and lead to the transformation of an original total rock block into several. In layman's terms, this is a process of dissolution that science would like to sell us here in order to deny a static challenge in the piling up of individual rocks.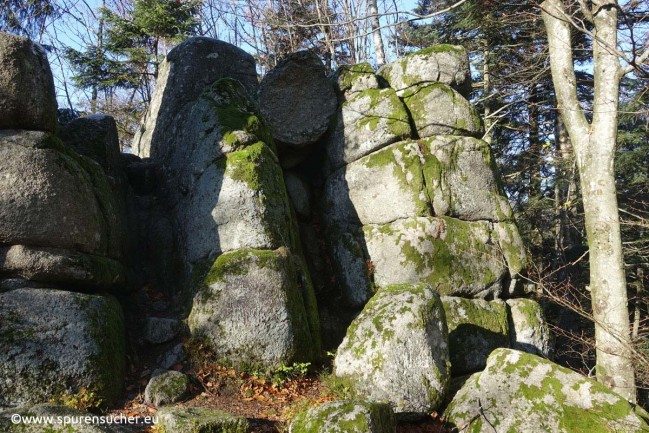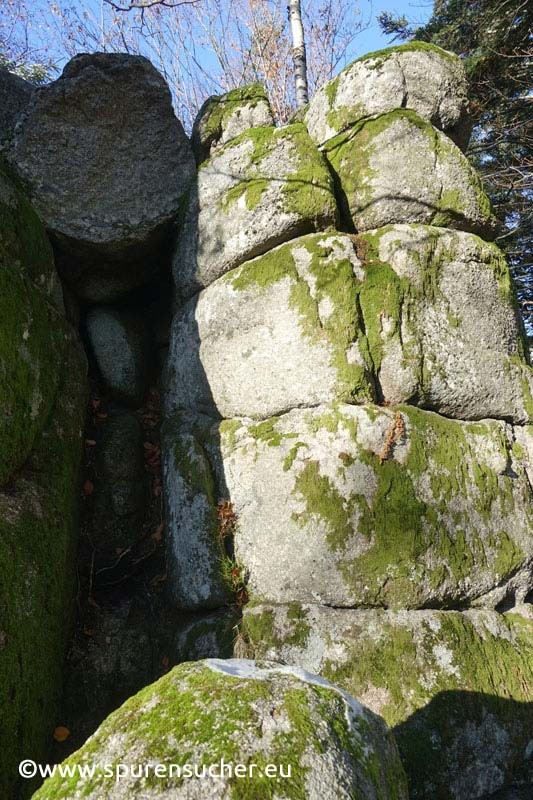 The curious side pillars, which have already assumed an alarming slant, also give rise to speculation.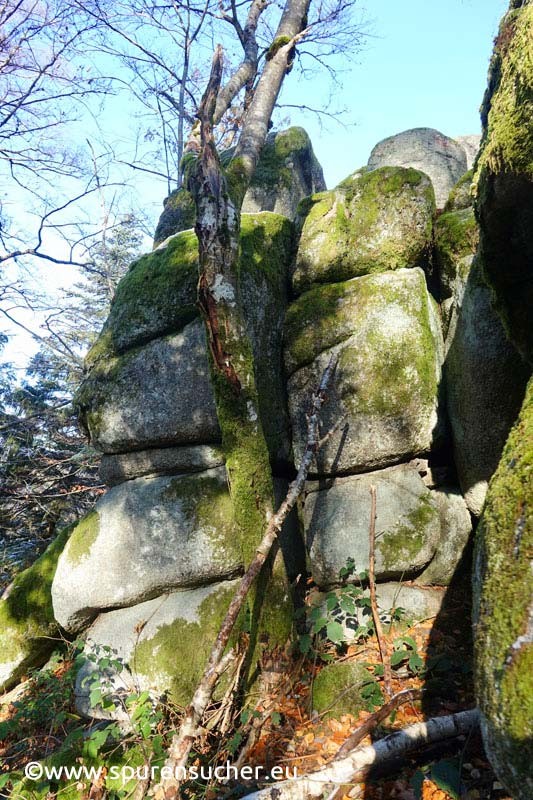 From this point of view, "nature" should really have done a good job. Round edges, for which science has the terms "mattresses" or "wool sacks" in its portfolio and nips any further discussion of them in the bud. None of them has ever been able to prove any of these processes in an experiment (how could they), but for all formations in nature, frost, erosion or chemical influences must be exclusively responsible.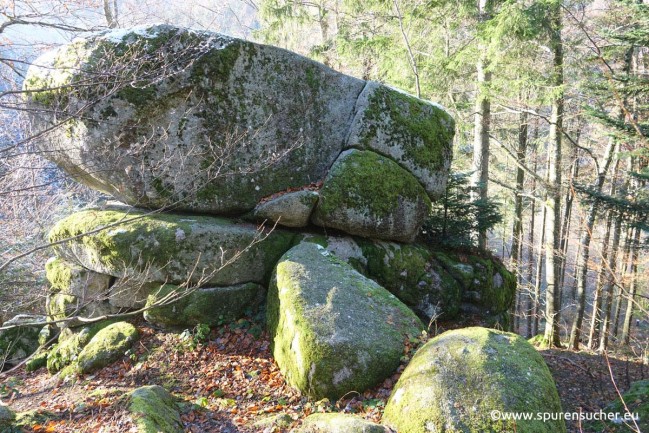 Interesting secondary monument, the "rocket ramp" I named. The rounded top and bottom at least suggest to me that it has been worked on, the plateau underneath also looks constructed to me. If you disagree, please ...…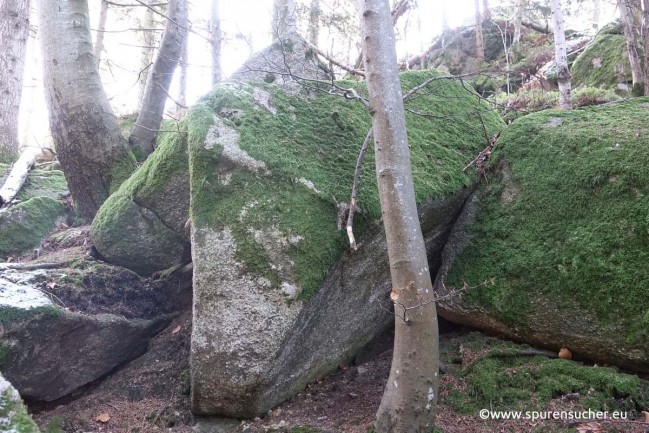 Geometric structures like those of former buildings do not only arise from my imagination.
Nevertheless, one must draw attention to a few points here: First of all, no historian or archaeologist takes the trouble to take a closer look, since human influence cannot/must not be an issue from the outset. Unfortunately, I did not visit this place for very long, but I was able to record numerous anomalies right away ... and there are certainly many more.
You feel like you are on the roof of a submarine. Please note the symmetrical grooves on the top and the parallel grooves of the rocks below.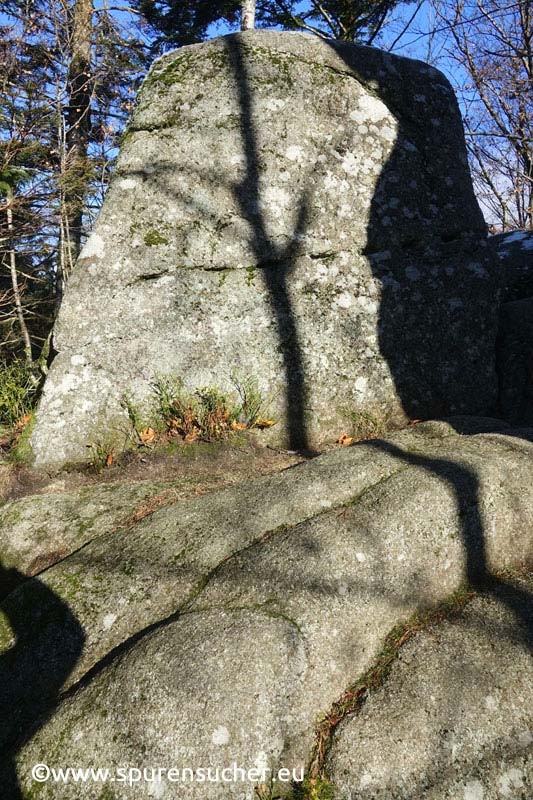 The main rock tower of seven elements looks like it is cut off from one side. the lower two rocks look like steps. The whole thing gives me an extremely symmetrical impression. If frost protection, chemistry, moisture and erosion were at work here, where did the fallen-off remnants go?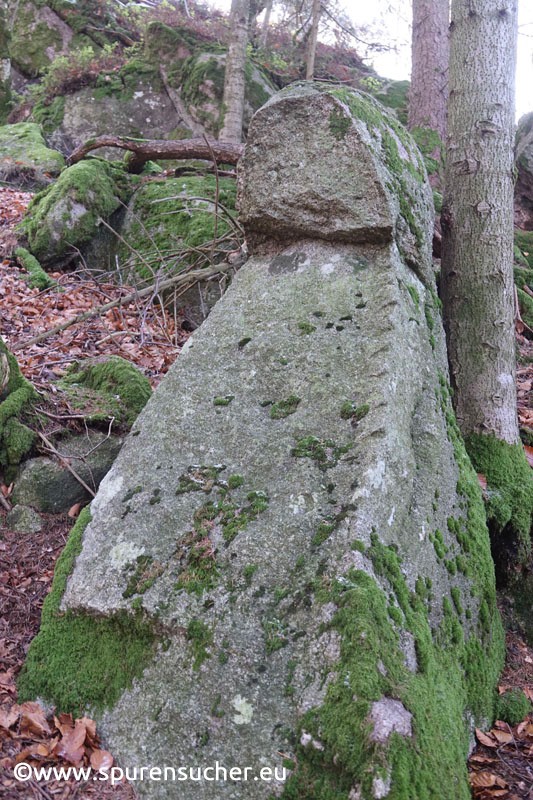 Worked rock (round head end, slant). The front part of the head (possibly once a face?) is broken off. Regular notches are found in the sides of the rock. Slope, proportions have something figurative.
OK, there are other rocks swarming around, but I couldn't find the exact missing pieces for the time being. Parallel to the main monument, there are also other stacked granite blocks, but they do not reach the spectacular height. They are right next to it and also bulge outwards. One or the other rock head has already fallen between the pillars.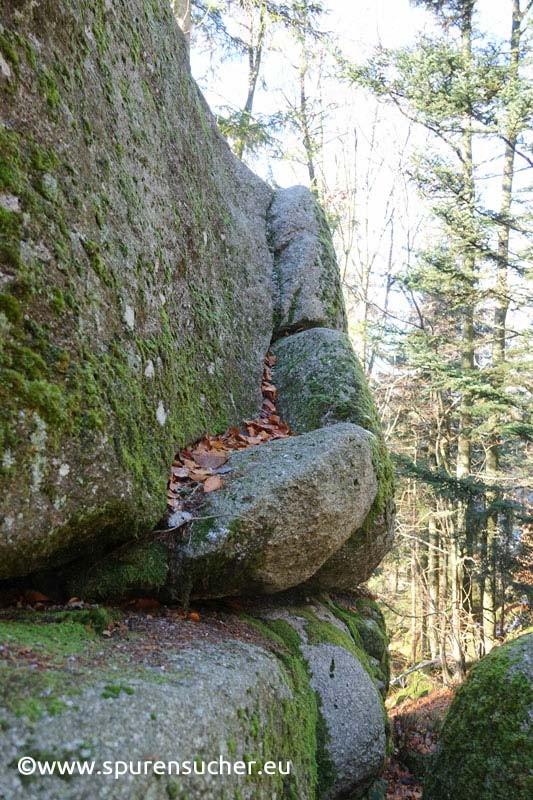 Prepared steps on the side of the rock? That happens several times.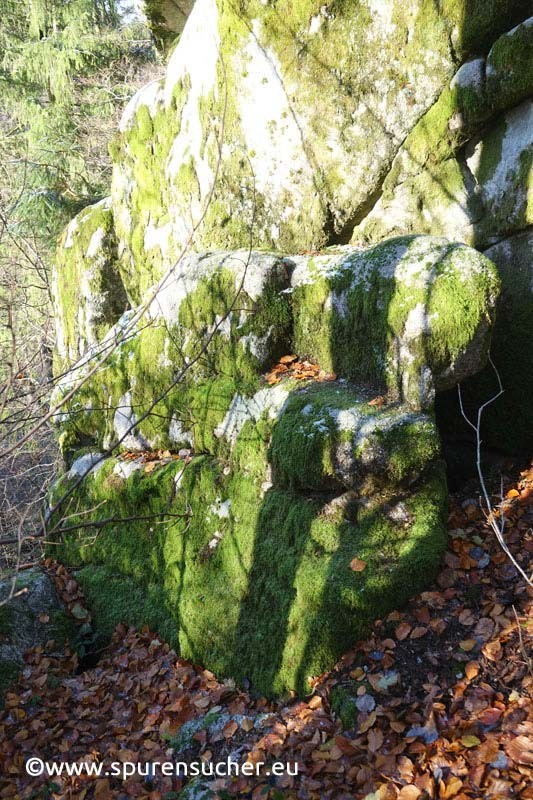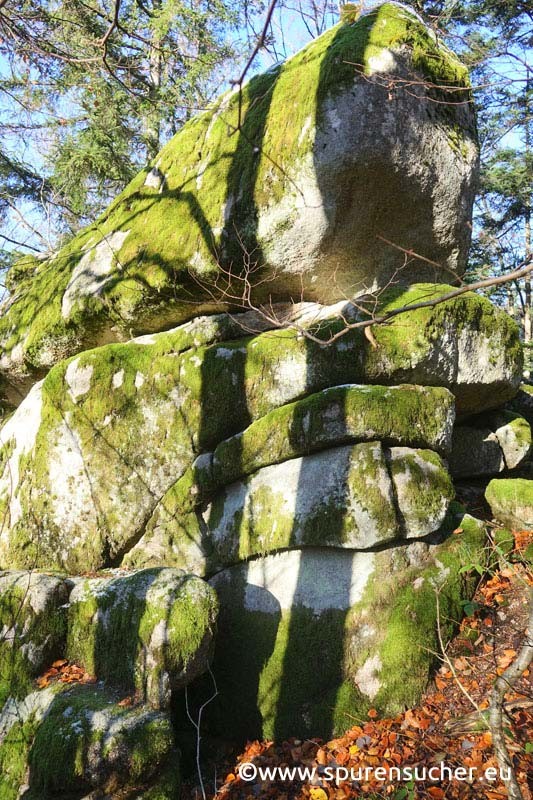 As usual, I examine the rocks in the immediate vicinity for possible traces of work and find plenty of it. Practically in the shadow of the Siebenfelsen is a kind of "rocket ramp", as I would like to call it temporarily. It has the shape of a rocket and lies on a plateau that runs at a slight angle. This is certainly where the woollen bag story comes into the conversation again. For me, however, the top of this body is not the form play of a capricious permanent erosion or frost blast.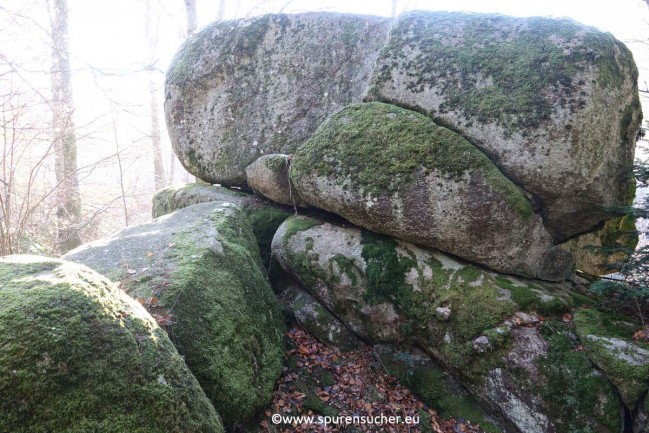 On closer inspection of numerous rock sections, I see that here and there there has clearly been some manual work. Some plateaus run straight and at right angles, in numerous places edges have been worked in. Entire block sections have been notched or geometrically worked.
Edges and platforms are one hundred percent machined here. The angles and smoothed surfaces are simply too prominent.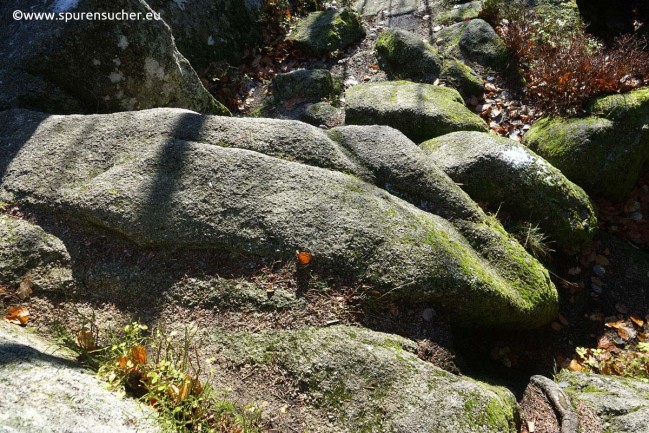 Here you can clearly see slanted grooves, which indicate subsequent machining or loading in a different aggregate state.
What once stood at this site before the use of spruce monocultures (certainly several thousand years ago) and what form of cataclysm worked here, or what still lies beneath the earth, can only be guessed at. If it was a former site, one has to use some imagination here to solve the puzzle.