The Devils Slider of Utah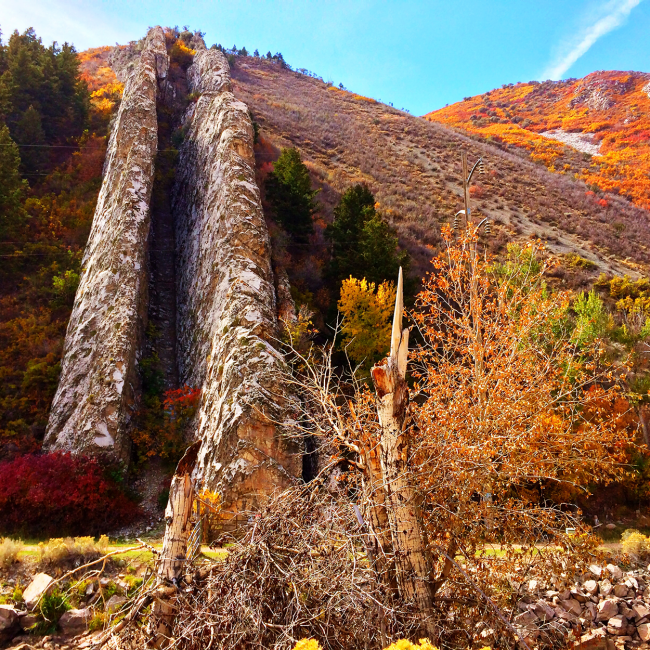 Photo: Jeremybrooks by Wikimedia Commons; >> Bildquelle
Science is trying to explain this rock anomaly to us with dry words: This unusual geological (perhaps even man-made) formation is located near the border of Wyoming in Weber Canyon in northern Utah. It consists of two parallel, vertically aligned limestone formations, each 12 m high from the mountain and showing an impressive parallelism. They are parallel to each other and reach a height of about 70 metres.

The channel in the middle is over 7 metres wide - we are told that the internal material has been washed out over millions of years.
Too straightforward to be natural?
On this drone flight one can see very nicely that this formation looks like cut out. The early pioneers of the 1840s disrespectfully gave it the name "dirt channel", which later became known as Devil's slide.

"Looks like a big playground slide made especially for the devil - it's like a sediment dump from a sea that has shaped Utah's distant geological past," says Carl Ege of the Utah Geological Survey on geology.utah.gov.
The name Devil's Slide was later used as a place name, the surroundings were economically influenced by limestone mining. The people served exclusively the cement industry. The mining hype did not last long, in the 1940s the city was literally closed down.

The regional use of the term "Devil" probably originates from the Indians, who dedicated the entire area to the devil. That's how it was reported according to the Salt Lake Tribune of 1888. There is even said to be a Devil's War Club there - representing another rock formation nearby.

The "Mystic shriners", a splinter group of the Freemasons, used the Devil's Slide (source: standard.net; headline of the standard from 22.8.1911) as initiation and ceremony place. This included a hike to the top of Devil's Slide, followed by a slide down. The final rockfall for the initiation brothers from the slide was apparently "softened" by an artificial basin. I can't imagine how the whole thing was done in practice.
>> Photo source Flickr (Commons)
Unsuitable as a ski slope in any case
The contrast between the double wall and its surroundings is particularly visible in the snow flurries. If it is not of natural origin, what purpose should this installation have served?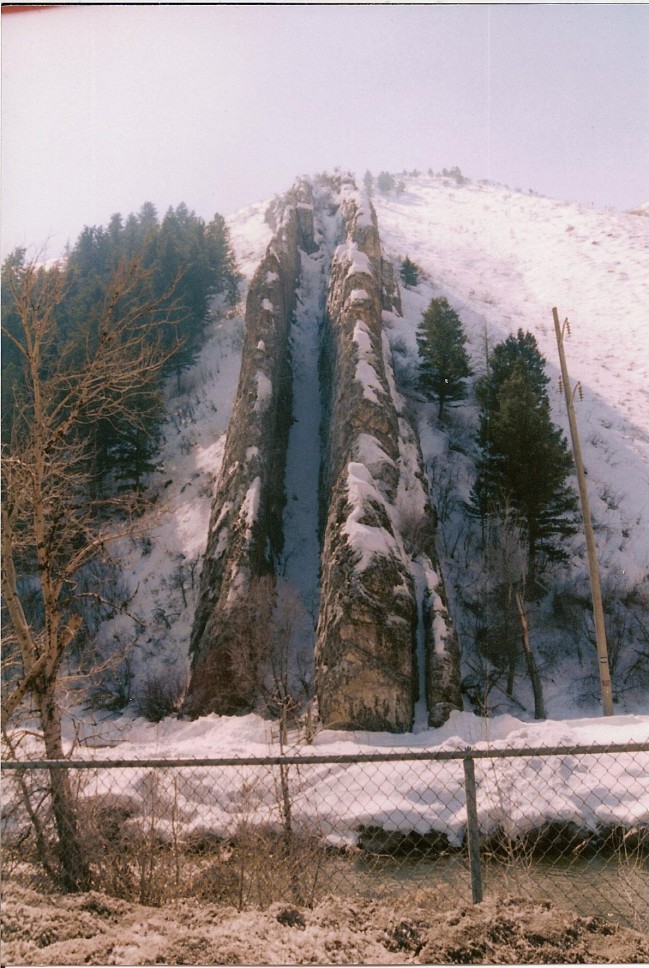 Photo: Tricia Simpson by Wikimedia Commons; >> Picture link